There's an evolution going on – and we all need to evolve or get left behind.
Microsoft's Business Applications Summit in Seattle July 25-27 sent the 3,500 attendees some very clear messages about Microsoft's vision, their products, their partnerships and about the future.
It's full speed ahead for the direction of Microsoft's business applications and how they relate to the somewhat cliché concept of digital transformation.
Except it's not a cliché – it's a concept, a culture that's here to stay signalling a continuous cycle of improvement for products, capabilities and our own digital sophistication.
For it's part, Microsoft made many announcements, including providing insight into their next business applications release notes scheduled for October. You can find the release notes here. The document outlines coming capabilities for Dynamics 365, Microsoft Flow, PowerApps, Power BI and the importance and growth of the Common Data Service.
Increasingly it becomes clear tools are being build which allows a business to take the very specific abilities they need to improve their business – even allowing them to build their own apps and tools for peak performance.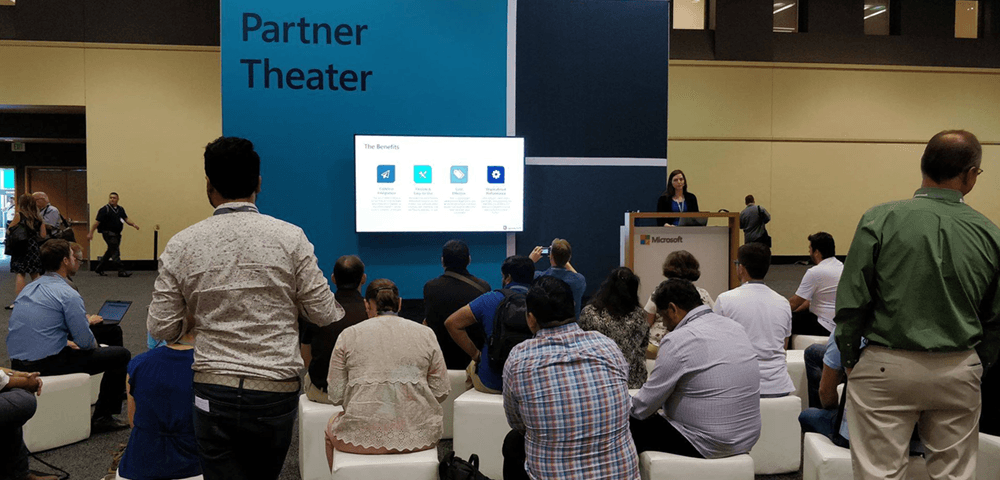 Sessions were held throughout the conference center as well as at various theaters within the expo hall itself, here we are presenting our solution to the crowd in one of the expo theaters.
It was an impressive week – a great and timely event. Many did not know what to expect but the focus and the communication and opportunities for networking by the surprisingly large audience were inspiring.
As Microsoft's James Phillips, Corporate Vice President, Microsoft Business Applications Group outlined in his core note remarks, it's been a busy three years of growth.     
"It's been an amazing and incredible journey. And it's really all started with PowerBI. It's the beginning of a journey with what has emerged as Microsoft's 3rd cloud.
We've got Azure, Office 365, Dynamics 365 and the power platform of a core part of that business application cloud. The growth over the last three years has just been staggering. Power BI is the leading worlds leading business analytics solution by miles and miles and miles."
Phillips said there is 8 petabytes of data uploaded to the Power BI cloud. There are 2,200 queries every second, in 43 languages in 18,000 cities.
"Our belief is that data is at the centre of the opportunity that's in front of all of us. If you can harness that data make intelligence out of it and then go transform business processes then you are in position to transform your company, your industries and we're seeing that happen across every single industry whether it's retail, financial services, auto manufacturing, chemical manufacturing."
With over 200 sessions available Microsoft Business Applications Summit attendees were able to tailor their learning to their needs. Data certainly played a key role in the drive behind the entire conference and it's the power of data that motivates KingswaySoft to do what we do.
Full disclosure, KingswaySoft was a proud sponsor of the Business Applications Summit. Our core products facilitate data integration in many forms supporting the Microsoft vision.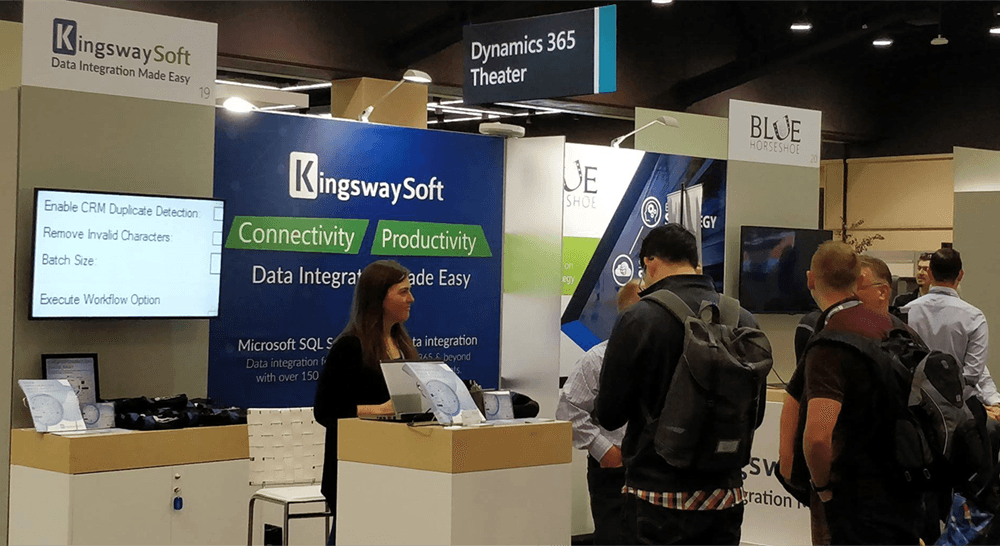 Sponsors were set up within the expo hall as well as Microsoft supported booths on each business application.
We're expanding too and our users are using our data integration tools for projects and process building on a scale and in such unique situations we might never have thought possible.
The Business Application Summit allowed us the opportunity to network and have tremendous discussion with customers new and old. It's fascinating to see how business applications like KingswaySoft data integration software help evolve the business community.
You'll see us at more conferences this fall, including Dynamic Communities Summit (D365UG, AXUG, CRMUG, GPUG, NAVUG - Oct 15-18, Phoenix), and PASS Summit (Nov 6-9, Seattle).
Our growth and the evolution of business possibilities will not slow down. We're glad to be part of it.