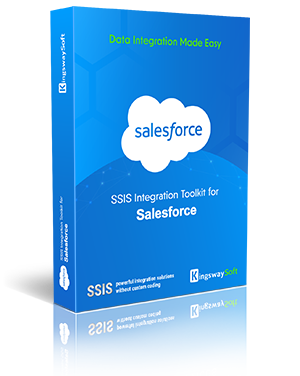 Experience more features and greater performance for your Salesforce integration project.
The SSIS Integration Toolkit for Salesforce is the most performant and feature-rich data integration solution for Salesforce on the market. With a meticulously designed software that leverages the power of the SSIS ETL engine for a familiar development experience, your integration job can be completed 3 to 10 times faster.
Salesforce, Tableau CRM and Marketing Cloud Integration
Support both Salesforce REST and SOAP APIs, Salesforce Einstein Analytics (Also referred to as Wave Analytics, Tableau CRM), and Salesforce Marketing Cloud.
An extremely simplified ETL development experience within a familiar development environment (Microsoft Visual Studio) provides your developers the best possible development productivity.
Intuitive user interface to manage different aspects of your integration development in a codeless, drag-and-drop environment.
Robust error handling and superior performance.

Text Lookup feature makes Salesforce lookup references painlessly easy and it comes with many configurable options.
Support bulk API for large-scale data reading and writing.
In-place picklist value mapping makes it easy to convert incoming option values to Salesforce picklist options with the ability to create new options on-fly while writing.
Equipped with many specifically designed integration options, the SSIS Integration Toolkit is the most flexible solution to read data from or write data to Salesforce.
Powered by modern cryptography and authentication technologies for secure connections, such as TLS 1.2, OAuth2, SHA-256, etc.
Integration can be done with virtually any application or data source that you may need to work with, including NetSuite, HubSpot, Microsoft SharePoint, Directory Services, and any other solution available in the Ultimate Edition. Support for Salesforce Pardot is available via the SSIS Productivity Pack.