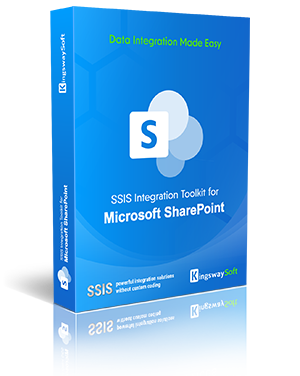 Powerful data integration for SharePoint is possible with the SSIS Integration Toolkit for Microsoft SharePoint.
With this high-performance, easy-to-use, cost-effective data integration solution built on the SSIS ETL engine, developers can use the skill set they already know to quickly build effective SSIS data integration packages for SharePoint and any other application or database system.
The SSIS Integration Toolkit for Microsoft SharePoint
Take advantage of the freedom, flexibility, and power of the SSIS ETL engine to facilitate Microsoft SharePoint data integration.
Performant and easy-to-use SSIS components to quickly connect, read and write to Microsoft SharePoint Online or On-Premises.
Option to retrieve data from SharePoint using CAML query filters built in the Query Designer.
Upload and download documents with ease.
Support for easy writing of various special SharePoint fields including taxonomy, lookup, and many other fields.
Support working with SharePoint document set with ease.
Support reading and writing flat files (CSV files) in your SharePoint document libraries using the 3 bonus SSIS components included.
Support both SOAP and REST APIs
Support SharePoint modern authentication via OAuth connections.
Support for multi-threaded writing in the SharePoint destination component to facilitate high throughput writing.
The text lookup feature makes lookup painlessly easy.
Powered by modern cryptography and authentication technologies for secure connections, such as TLS 1.2, SHA-256, etc.
Integrate your SharePoint data with virtually any application or database system including Microsoft Dynamics 365, Salesforce, Marketo, SQL Databases, and Oracle Databases.
Available on its own or as part of a package with our other enterprise data integration solutions in our Ultimate Edition.