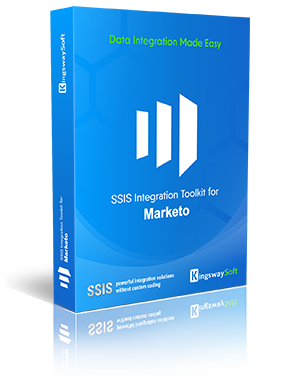 Quickly develop robust integration projects for Marketo without writing a single line of code.
Built on the SSIS ETL engine, developers can use tools they are already familiar with to build custom integration solutions between Marketo and any other data source.
Marketo Data Integration using the SSIS Integration Toolkit
High-performance, easy-to-use, cost-effective, data integration solution for Marketo.
Freedom, flexibility and power of the SSIS ETL engine that helps you create the most sophisticated integration solutions for Marketo.
SSIS Data Flow Components built exclusively for Marketo to address the unique aspects of working with Marketo data.

Built-in Duplicate Detection based on specified field(s).
Several configurable settings and options to retrieve only the data needed from Marketo.
Full support for integrating with Marketo Custom Objects.
API Throttling option available to help enforce and respect the Marketo API Throttle limit.
Powered by modern cryptography and authentication technologies for secure connections, such as TLS 1.2, OAuth2, SHA-256, etc.
Build simple to complex integration scenarios with Marketo and virtually any other application or database system including Microsoft Dynamics 365, Dropbox, Salesforce, and any other application found in our Ultimate Edition.