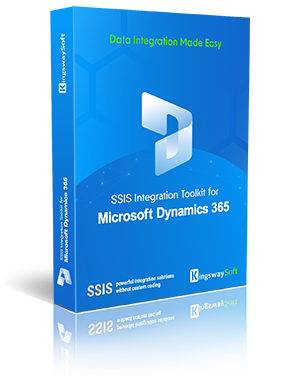 SSIS Integration Toolkit for Microsoft Dynamics 365 offers the greatest performance, flexibility, and ease of use.
Loaded with advanced options and configurable settings, SSIS Integration Toolkit for Microsoft Dynamics 365 is a developer's choice for codeless data integration and migration for Microsoft Dynamics 365 product family.
NEW!  xMultiple support: CreateMultiple and UpdateMultiple
The SSIS Integration Toolkit for Microsoft Dynamics 365
Powered by the powerful SSIS ETL engine, developers can quickly integrate Microsoft Dynamics 365 with virtually any other application or data system.
Full support for Dynamics 365, CRM, CE (Customer Engagement), AX (Finance & Operations), NAV (Business Central), Common Data Service (CDS), Dataverse, and PowerApps means easy integration between applications and versions as well as a simple data migration path for application upgrades.

An extremely simplified ETL development experience within a familiar development environment (Microsoft Visual Studio) provides developers the best possible development productivity.
Available on its own or as part of a package with our other enterprise data integration solutions in our Ultimate Edition including SharePoint, HubSpot, Directory Services, and the SSIS Productivity Pack to enhance development productivity.