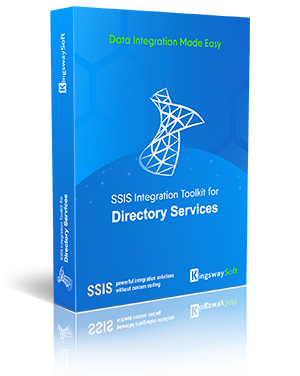 Use the SSIS Integration Toolkit for Directory Services to manage your Active Directory, Azure Active Directory, LDAP, and Google Directory data.
The toolkit is a high-performance, easy-to-use, cost-effective data integration solution utilizing Microsoft SQL Server Integration Services (SSIS) capabilities for various integration needs. With this toolkit, businesses can effectively automate their directory services processes.
Directory Services Data Integration
High-performing data integration for LDAP, Active Directory, and Google Directory services using SSIS.
Support of various Graph API service endpoints in facilitating the reading or writing of Azure Active Directory data.
Immersive development productivity thanks to the easy learning curve and familiar development experience using Microsoft Visual Studio.
Easily manage a massive number of Users and Groups in your directory services.
Maintain User's Group memberships effortlessly.
Read and write to various Directory attributes including custom and array attributes from Users and Groups.

Disable or enable a massive number of User accounts instantly.
Built-in search function so developers can quickly find the fields required.
Powered by modern cryptography and authentication technologies for secure connections, such as TLS 1.2, OAuth2, SHA-256, etc.
Synchronize user account information with virtually any external data source that SSIS can read/write to including Microsoft Dynamics, SharePoint, and any other components available in KingswaySoft's Ultimate Edition.