Use of AX Source Component
AX Source Component is an SSIS source component that can be used to read/retrieve data from Microsoft Dynamics AX server. The AX source component supports using an AX query as the data source.

AX Source Component includes the following two pages to configure how you want to read data from Microsoft Dynamics AX.
The General page allows you to specify the general settings of the AX source component, while the Columns page shows you all available columns based on the provided query and source tables.

General page
The General page of AX Source Component allows you to specify the general settings of the component.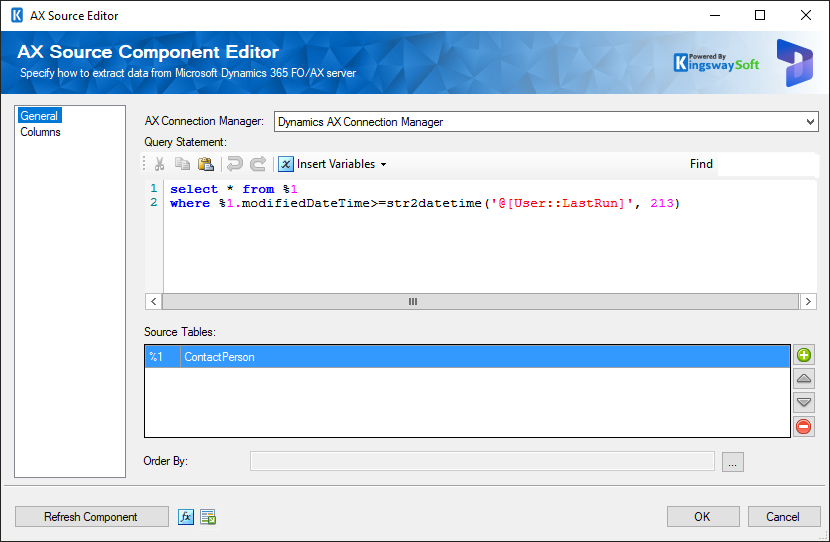 AX Connection Manager

AX source component requires a AX connection in order to connect with Microsoft Dynamics AX server. The AX Connection Manager option will show all DynamicsAX connection managers that have been created in the current SSIS package.

Query Statement


You can use the text editor to enter a Dynamics AX query statement, which is typically a SELECT statement with source tables represented by %N format, where N is an integer. For instance, %1 can be used to represent the first table, %2 for the second, and so on. 

Query Statement now supports the use of User and System Variables (since v2.8). Simple select a variable under the Insert Variables drop down menu, and a placeholder value will be inserted into the filter text.

Source Tables

For each table identifier specified in your Query Statement, you must specify which table it represents. You can use the buttons on the right to add new/delete source table(s), and make change to their sequences.


Refresh Component button


By clicking this button, the component will try to retrieve the latest metadata and update each field to its most recent metadata. After clicking this button, you will receive the following screen once the update is done.
Columns page
The Columns page of AX Source Component shows you all columns available from the Query Statement and Source Tables that you have defined in General page.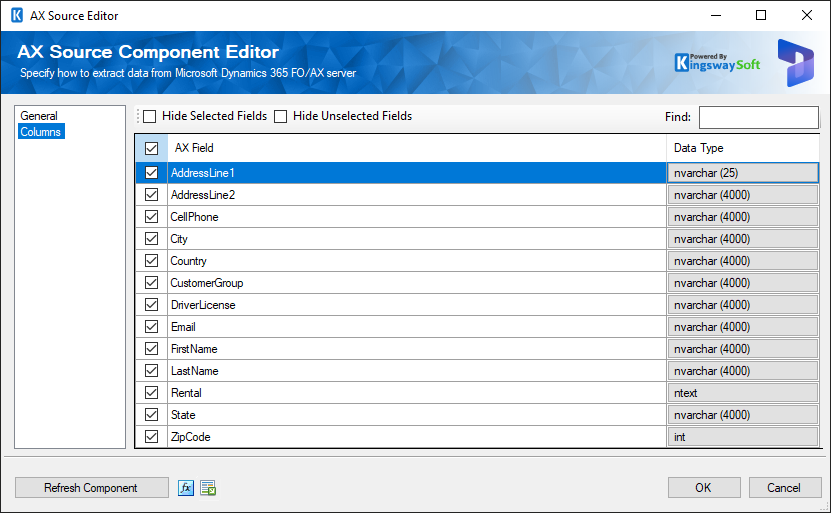 NOTE:  There is not currently a way to make direct changes to SSIS metadata (field name, data type, etc.) in this window, but you can use SSIS Advanced Editor to make such change if desired. You should rarely need to make direct SSIS metadata changes, but if you have done so using SSIS Advanced Editor, you should be cautious about using the "Refresh Component" button. Clicking this button will essentially revert any metadata changes that you have made.
SSIS Advanced Editor is available if you right-click the component in SSIS Data Flow view, and choose "Show Advanced Editor..."