KingswaySoft Announces 2023 Release Wave 2
OAKVILLE, ON: September 8, 2023 - KingswaySoft Inc., a leading provider of data integration solutions, today announced its 2023 release wave 2 of their widely-used SSIS Integration Toolkit product family, along with SSIS Productivity Pack and its real-time integration solution - KingswaySoft Integration Gateway. This release contains over 290 new components, features, and enhancements, that will help streamline your ETL development and boost your productivity.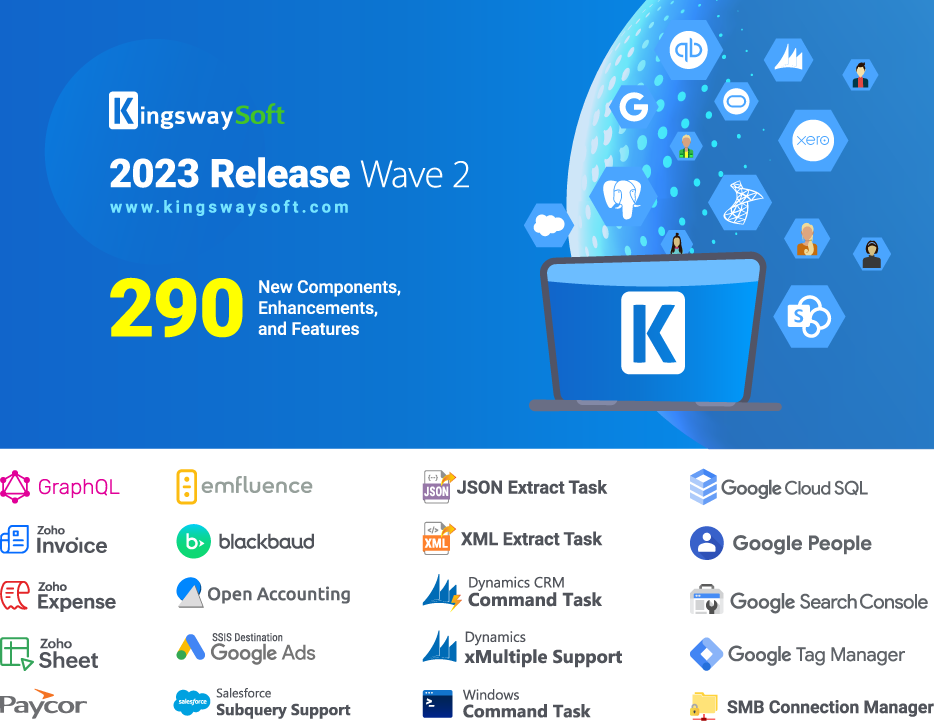 SSIS 2008 and 2008 R2 Support Removed
We should first highlight that we have removed SSIS 2008 and 2008 R2 support in this release. This move will help us better allocate our resources on new features in our development in the future. We should note that SQL Server 2008 has reached its end of life support back in July 2019.

More Power with the updated SSIS Productivity Pack

Newly introduced GraphQL components that work with various GraphQL-based services.
More than 10 REST services including Blackbaud, Emfluence, Google Classroom, Google People, Google Search Console, Google Tag Manager, Paycor, Open Accounting, Zoho Sheet, Zoho Expense, and Zoho Invoice.

Newly introduced Windows Command Task that allows execution of PowerShell scripts or Windows commands from within SSIS runtime.
Newly introduced SMB Connection Manager to work with SMB file sharing.
Newly introduced JSON Extract and XML Extract tasks.
Newly introduced Google Ads Destination component.
Among all the new components, we would like to quickly highlight the following:
Increase Efficiency with Upgraded Data Integration Toolkits

Here, we've highlighted some significant new features within our SSIS Integration Toolkits and our real-time integration solution:

About KingswaySoft
KingswaySoft is a leading integration solution provider that offers sophisticated software solutions that make data integration simple and affordable. Thousands of enterprise clients from over 100 countries rely on our no-code SSIS Integration solutions to integrate data with various application systems to drive business efficiency and leverage information assets.

Learn more at www.kingswaysoft.com
---
Back to News