KingswaySoft Winter 2019 Release Wave
OAKVILLE, ON: February 21, 2019 - KingswaySoft Inc., a leading provider of data integration solutions, today announces the Winter 2019 Release Wave of the SSIS Integration Toolkit. With this release KingswaySoft announces data integration support for a dozen additional applications/services. With this release comes new REST components in SSIS Productivity Pack with support for ADP, PayPal, Saleforce Pardot, ServiceNow, Shopify, Smartsheet, Stripe, Trello, WordPress/WooCommerce, and Wunderlist, as well as components for integrating with Google Cloud Storage. Also added is support for connecting to Microsoft Dynamics 365 CE via WebAPI, as well as support for SSIS 2019 for all products. With this release support for SQL Server 2005 is now considered deprecated.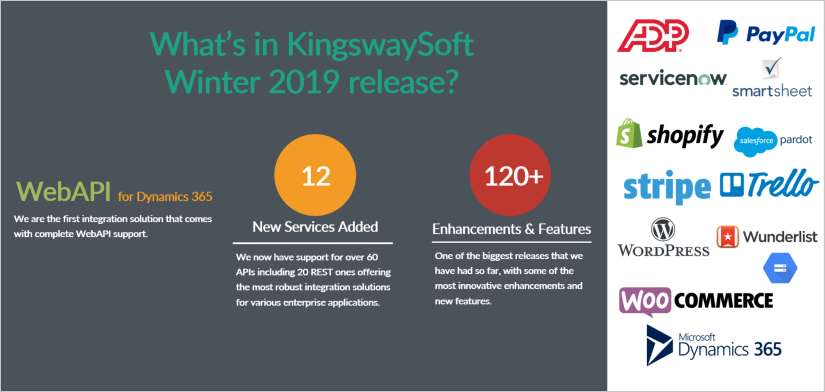 Below is a highlight of some of the release notes for each application. 

---
Back to News