Premium PDF Source Component
via SSIS Productivity Pack
Extract data from PDF files with Premium PDF Source component, found within the SSIS Productivity Pack.
What other applications can you sync with Premium PDF Source?
Click here for more solutions.
The Premium PDF Source component is an SSIS Source component that can be used to extract data from tables in PDF files.
With the Premium PDF Source component, developers can work with tables in PDF files including the ability to combine tables across pages, skip empty rows and deal with misaligned cells. These advanced SSIS functions are available through a simple-to-use user interface that is flexible without compromising performance.
The Premium PDF Source component is part of the SSIS Productivity Pack. Discover the simplicity of reading tabular data from a PDF file and writing it to any application or database system [read more].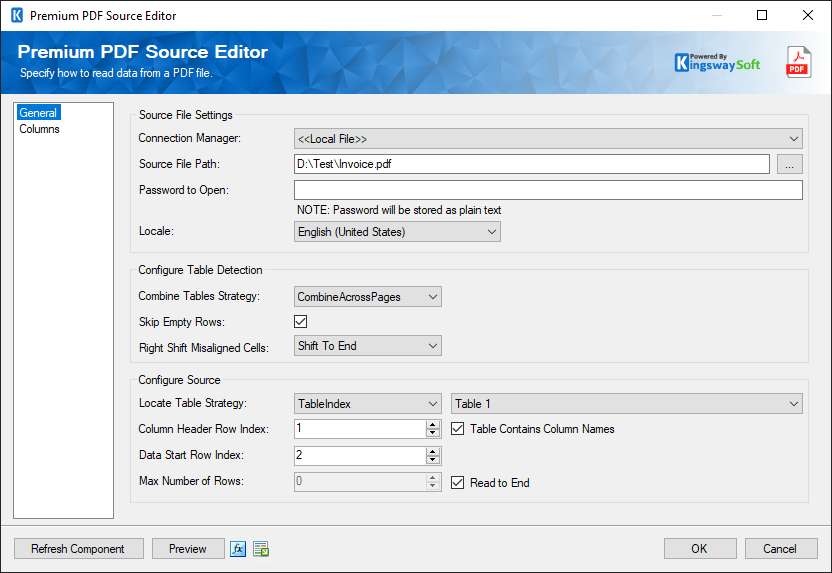 Retrieving data from a database using SSIS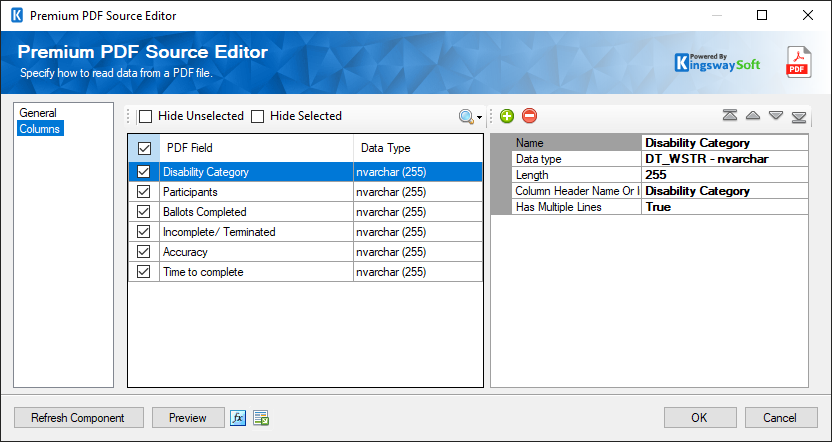 Read from any database in SSIS easier with the Premium PDF Source Source component which offers greater development flexibility and usability with superior performance.
Auto-generates select statement for retrieving data from the database source which can be further customized to perform powerful queries.
Developers can preview the results of their query prior to task execution.
Improved SSIS metadata handling means zero to minimum breaking changes to the downstream pipeline components when the source query is changed.
Writing data to a database using SSIS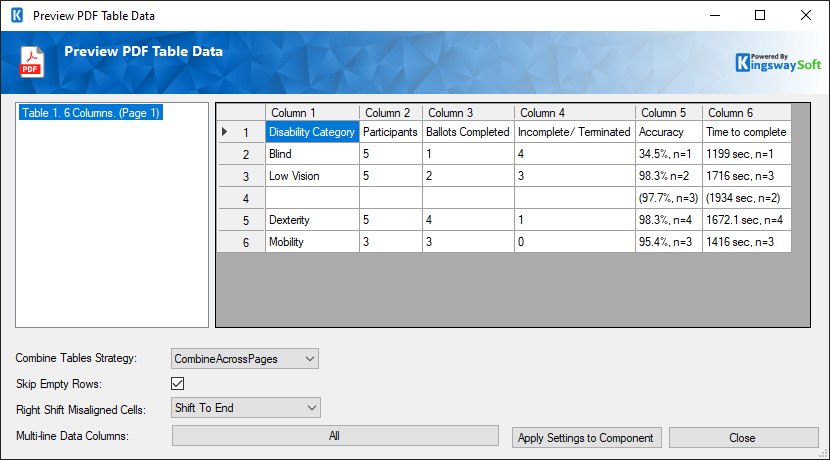 Use Create, Update, Delete, Upsert, Full Sync or Custom Command to write data to any database using SSIS.
Upsert data to your destination within minutes, no coding or advanced transformations required.
Create new tables, options for duplicate handling, and support for in-place lookup to easily perform lookup with more advanced features and no additional component configuration.

Support for Bulk Insert, Update, & Upsert available for some databases.
Premium PDF Source: Data Integration Made Easy
Our solution is easy to use, offering code-less integration between the Premium PDF Source components and virtually any other application or database system. Our solution is built utilizing Microsoft SQL Server Integration Services (SSIS), a performant and flexible ETL platform, allowing your team to take advantage of the technologies and skills they already have. The drag-and-drop user interface makes it easy to set up powerful integration within a matter of minutes.
Our Premium PDF Source component is available within the Premium Data Flow components of our SSIS Productivity Pack, a large collection of premium and unique ETL tools to enable greater development productivity. We also offer several additional connectivity solutions to easily integrate Premium PDF Source with applications such as Microsoft Dynamics 365, SharePoint, Salesforce, and many more.
See our full product offerings for more information.
Other Premium Data Flow Components
Our Premium Data Flow components make it easy to integrate with different services within the ETL process. Each component available has been specifically developed to expand and enhance data migration and integration processes. In addition to Premium PDF Source, the Premium Data Flow components include:
Get In Touch
If you would like to know more specific details about our solutions, or if you have any suggestions about our product offerings, we are always here to listen and help!