KingswaySoft Announces 2022 Release Wave 1
OAKVILLE, ON: October 14, 2022 - KingswaySoft Inc., a leading provider of data integration solutions, today announced this year's new release of their widely-used SSIS Productivity Pack along with its SSIS Integration Toolkits. This version presents over 428 new components, features, and enhancements, which will increase efficiency and eliminate the complexity of your ETL development projects. Also, we added SSIS 2022 support across our products and from this version moving forward, only the 64-bit build will be available.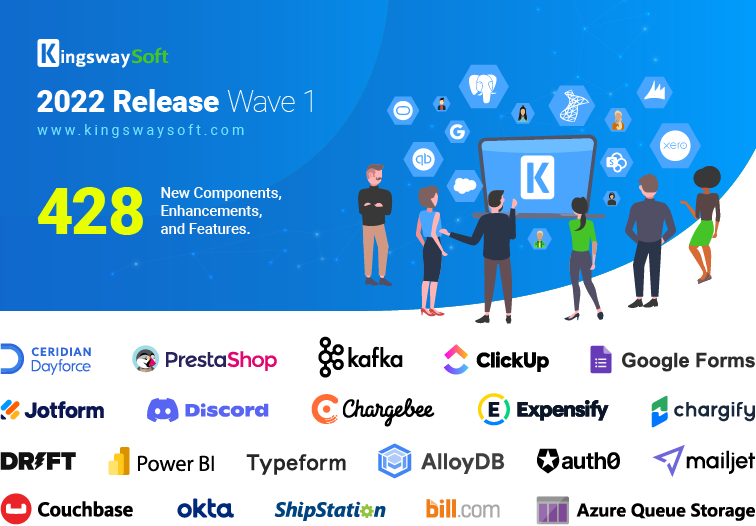 Our SSIS Productivity Pack just got a lot bigger!
This year's Wave 1
SSIS Productivity Pack
has been enhanced and expanded with new components and features to put more tools into your hands. Below you can see a quick glimpse of some of the new features and capabilities that the product offers:
We have added support for ChargeBee, Ceridian Dayforce, Auth0, Discord, Expensify, Mailjet, Okta, Power BI, PrestaShop, among many more new services.
Our team has made important enhancements to our REST Services, including Constant Contact v3 API support and Pardot v5 API support.
We have added a "License" option in Address Verification Connection Manager when working with SmartyStreet service, which can be used to specify the license or licenses to use for the address verification process.

Among all the new components, we would like to quickly highlight the following:
The Kafka components are SSIS message queue components that can be used to establish a connection with Kafka, read/retrieve data from Kafka, and write data to Kafka.

Okta components can be used to establish connections with an Okta-compliant broker, allowing you to read, deceive and send messages to it.
Power BI components allow you to easily achieve bidirectional integrations with Power BI. With this component, you can produce column data which then can be consumed by a downstream SSIS pipeline component.

Enhanced tools in our Data Integration Solutions
Below we would like to showcase a selection of noteworthy new features in our SSIS Integration Toolkits of our 2022 Release Wave 1:

About KingswaySoft
KingswaySoft is a leading integration solution provider that offers sophisticated software solutions that make data integration simple and affordable. Thousands of enterprise clients from over 100 countries rely on our no-code SSIS Integration solutions to integrate data with various application systems to drive business efficiency and leverage information assets.

Learn more at www.kingswaysoft.com
---
Back to News