KingswaySoft Announces 2021 Release Wave 2
OAKVILLE, ON: Nov 11, 2021 - KingswaySoft Inc., a leading provider of data integration solutions, today announces the latest updates of the popular SSIS Integration Toolkit along with its Integration Gateway product. This release offers over 244 new features and enhancements which help streamline and simplify your integration development experience.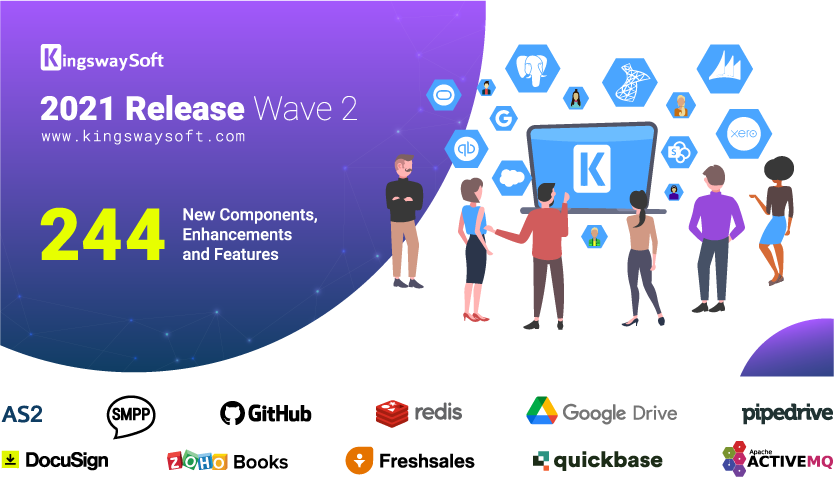 Accomplish more with our SSIS Productivity Pack

Our improved SSIS Productivity Pack
lets you get more done in less time with new productivity-boosting components and features for all ETL projects. The following is a quick summary of this release within the Productivity Pack:
We have added support for DocuSign, FreshSales, GitHub, QuickBase, Zoho Books, Redis, SMPP, ActiveMQ among some other new services.
We have made some massive enhancements to our EDI components, including AS2 connection support for secure EDI file writing.
There are numerous other updates to our message queuing, JSON/XML, NoSQL, and cloud storage components.
We have added command execution support for most of our DB and data warehouse connections, such as ADO.NET, Redshift, BigQuery, PostgreSQL, and Snowflake.
Among all the new components, we would like to quickly highlight the following:

The Google Drive components are SSIS data flow pipeline components that can be used to read / retrieve data from Google Drive and to write data to Google Drive.


Redis components allow you to write data to Redis and to read/retrieve data from Redis. You can Upsert and Delete records using this component.


ActiveMQ components can be used to establish connections with an ActiveMQ compliant broker, allowing you to read, deceive and send messages to it.
Improved capabilities in our Data Integration Solutions
Below we present some special highlights of the features included in our new 2021 Release Wave 2 for our SSIS Integration Toolkits.
About KingswaySoft
KingswaySoft is a leading integration solution provider that offers sophisticated software solutions that make data integration simple and affordable. Thousands of enterprise clients from over 100 countries rely on our no-code SSIS Integration solutions to integrate data with various application systems to drive business efficiency and leverage information assets.
Learn more at www.kingswaysoft.com
---
Back to News