KingswaySoft Announces 2021 Release Wave 1
OAKVILLE, ON: May 28, 2021 - KingswaySoft Inc., a leading provider of data integration solutions, today announces the latest updates of the popular SSIS Integration Toolkit along with its Integration Gateway product. This release offers over 316 new features and enhancements which help streamline and simplify your integration development experience.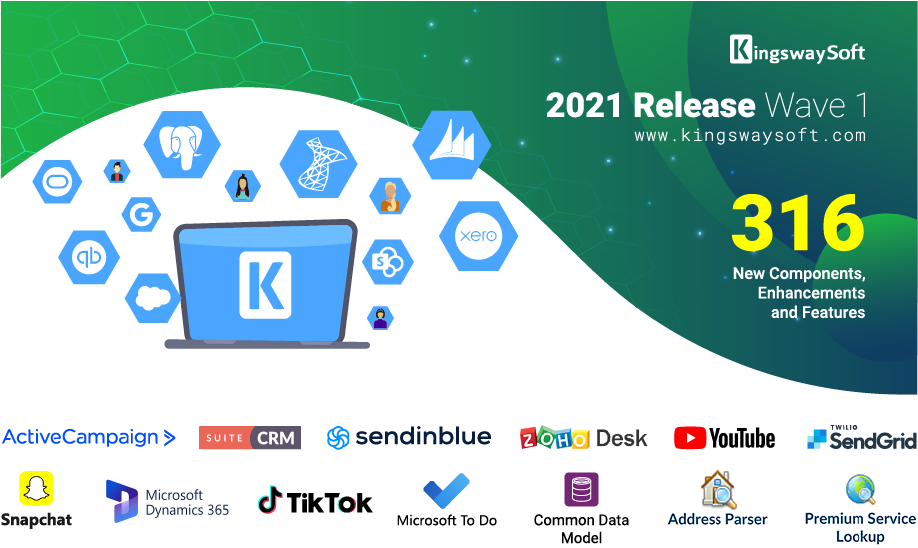 Our SSIS Productivity Pack is Better than Ever
Our market-leading SSIS Productivity Pack is now packed with more productivity-enhancing components and features to support developers with their ETL projects. Our newest components include:

Premium Service Lookup component brings a shared lookup component which can be used to perform API based lookup by searching records from various database systems and cloud services. In this initial release of the component, we support over 60 different REST services, plus Dynamics 365 CE/CRM, HubSpot, NetSuite, all ADO.NET connections.


Address Parser component allows you to parse and normalize addresses around the world using artificial intelligence. The benefits of the component are, it does not rely on an online service, but it can be incredibly accurate in the processed data.

New Features in our Data Integration Solutions
Here are select highlights of the newest features in our 2021 Release Wave 1 for our SSIS Integration Toolkits and our real-time data integration solution, Integration Gateway.
About KingswaySoft
KingswaySoft is a leading integration solution provider that offers sophisticated software solutions that make data integration simple and affordable. Thousands of enterprise clients from over 100 countries rely on our no-code SSIS Integration solutions to integrate data with various application systems to drive business efficiency and leverage information assets.
Learn more at www.kingswaysoft.com
---
Back to News