The Premium Derived Column component expands on the native SSIS Derived Column to give developers more power in SSIS to easily perform advanced transformations without any custom scripts.
The Premium Derived Column component part of the SSIS Productivity Pack offers all the functionality of the SSIS out-of-box Derived Column component and expands on it to create a component with greater potentials, features, and ease-of use. The Premium Derived Column component is the ultimate component for SSIS developers. With over 275 functions, the Premium Derived Column component allows developers to create advanced expressions easily for SSIS transformations not once possible without custom scripts.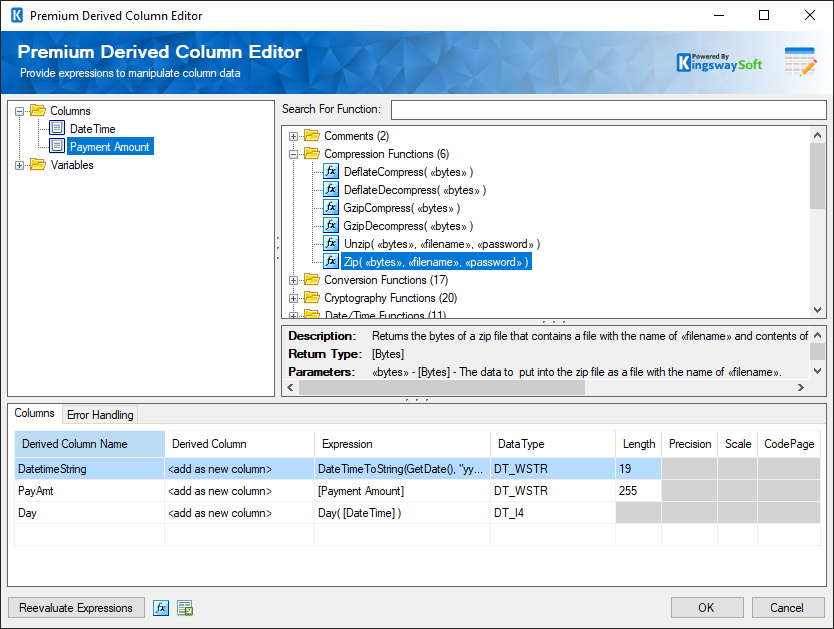 Feature
Out-of-Box Derived Column Component

Premium Derived Column Component


Add Columns


Yes


Yes

Utilize Expressions to Transform Data

Yes

Yes
Number of Functions
<100
>225
Function Search Bar

No

Yes

Error Handling

Fail on error
Ignore error
Redirect to output


Yes

Yes
Advanced Data Type Detection

No

Yes
Advanced Expression Editor

No


Yes

Quickly build advanced expressions in SSIS.

Expression Validation


No


Yes

Evaluate and validate every expression with one click.

Expression Testing

No


Yes

Enter test values to test expressions prior to execution.
Premium Derived Column Functions
Below is a list of function categories included within the Premium Derived Column. You may click on each category to see the list of available functions with a brief description on what it achieves.