Happy Holidays: A Look Back at 2020

The KingswaySoft team would like to wish everyone Happy Holidays and a healthy 2021. We want to thank you for your continued support over the last year while we all faced unprecedented challenges. Despite the uncertainties faced by businesses during this unique time, we were able to accomplish many goals that we have set for the year, and we are happy to share that our team made a successful transition from a mostly physical team working environment to a virtual one in a very short period of time, and throughout the year, we continued to provide exceptional services to clients from all over the globe without interruptions, and we have successfully shipped two major release waves in June and November, which contains a total of 978 new features and enhancements.
New Product Offering - Integration Gateway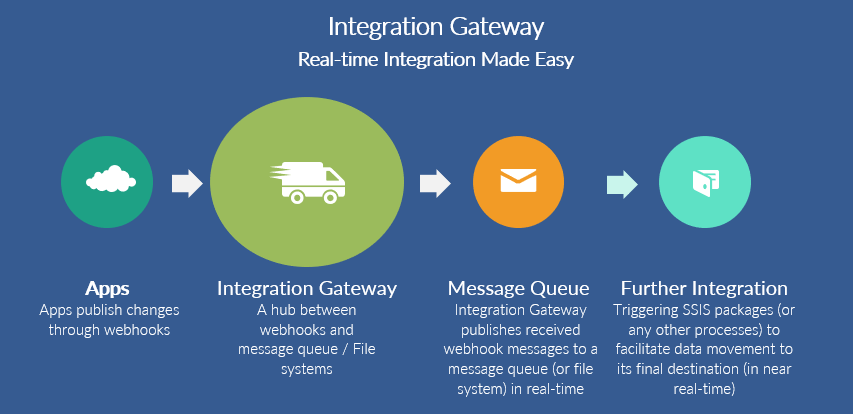 With our 2020 Release Wave 1, we introduced a new product offering, the KingswaySoft Integration Gateway. This unique software offers real-time data integration for businesses that require instantaneous data across all applications. It allows developers to set up webhook listeners to receive messages from modern cloud applications, and publish them to one or more message queues or file system. From there, developers can trigger further integrations by pushing the data to its final destination, such as using a SSIS task, or anything that can receive messages from a queue and further process them. With this, businesses can establish real-time integration between HubSpot and Dynamics 365, for instance, or sync Salesforce and virtually any other application or database system.

Two Release Waves, 978 New Components, Features, and Enhancements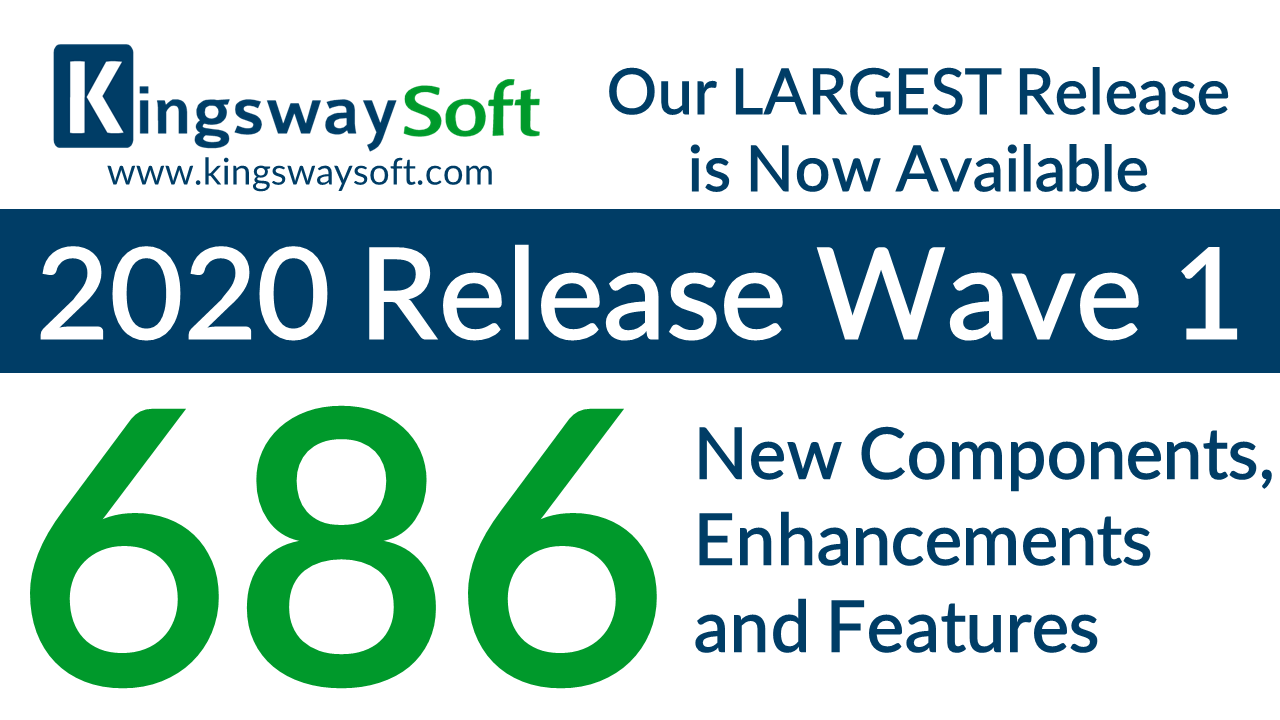 Our Wave 1 release on June 5 saw over 686 new components and updates to our family of SSIS Integration Toolkits - our largest release ever. Within the Wave 1 release, our SSIS Productivity Pack grew to include: Premium Message Queue Task, Azure Files, Azure Functions, WebDAV, Premium Aggregate, Premium Expression Task, Premium File Property Task, Premium Hash, SSH Task, Composition, and, Decomposition. Check out our recorded webinar as we demonstrate the newest components and features available in our 2020 Release Wave 1. Within our Dynamics 365 toolkit, we introduced support for the latest global discovery API along with many enhancements around WebAPI interface.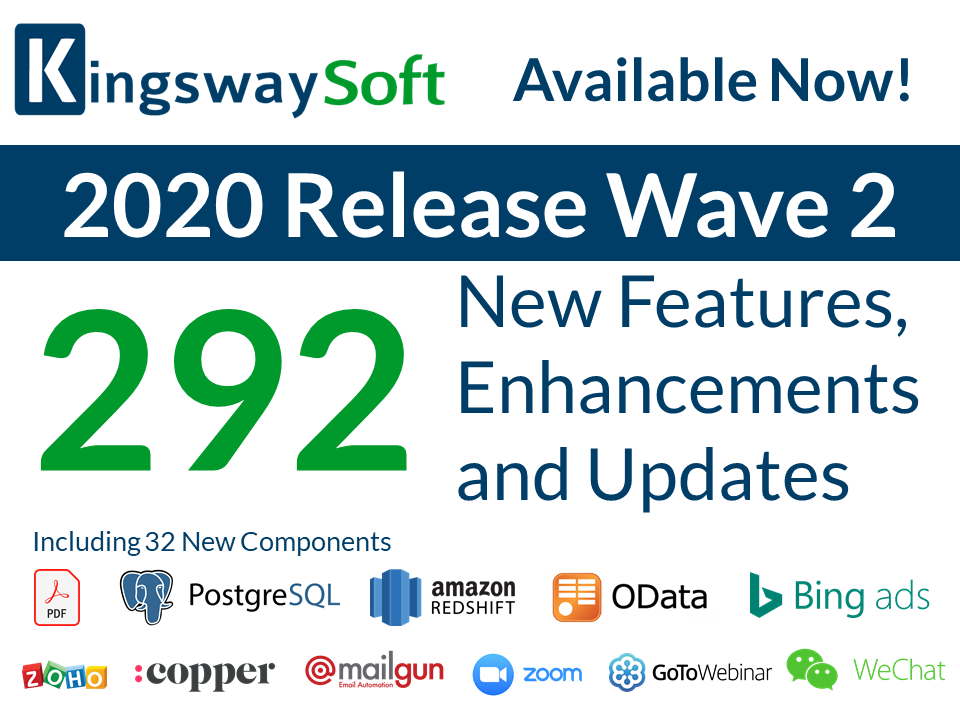 With the release of Wave 2 on November 4, we added 292 new features and updates to our entire family of integration software including new components such as EDI Destination, Premium PDF Source, Amazon Redshift, PostgreSQL, Premium OData, and Bing Ads. We also expanded our REST services to include Copper, GoToWebinar, Mailgun, WeChat, Zoho CRM and Zoom. This release also brings over 100 new features, enhancements and updates to our current components including our Data Generation & Anonymization, Mail, Premium Data Flow, Premium File Pack, and REST components and much more.
In addition to the changes in our SSIS Productivity Pack, we added productivity improving features to our SSIS Integration Toolkits for Microsoft Dynamics 365. The new Process Optimization feature is designed to turn off any server-side logic or processes, such as workflows or plugins that could impact your writing performance. This feature will have significant performance gains when writing data to your particular entity in your CDS/CRM environment and includes three options which tentatively disable relevant plugins, tentatively disable relevant workflows, and tentatively disabling relevant entity auditing. Once the writing process is complete, the component will re-enable the disabled processes. You can learn more about the Process Optimization feature by watching our demonstration video.

Additional product boosting capabilities were added to our SSIS Integration Toolkit for HubSpot through the Enumeration Option Mapping feature which can be used to convert incoming values into valid HubSpot enumeration options along with the ability to create such options on-the-fly if no match is found in HubSpot. Similarly, the Salesforce Destination component in our SSIS Integration Toolkit for Salesforce now provides a Picklist Value Mapping feature which can be used to convert incoming values into valid Salesforce picklist option values along with the ability to create such options on-the-fly if no match is found in Salesforce. Learn more about these two new features through our webinar.

We are always looking for feedback from you in terms of how we are doing or if there is anything you are hoping to see in future releases. Your feedback is important to us so do reach out to share your insights with us.
Veracode Verified

In November, we announced that we have achieved the Veracode Verified Standard status, which is an industry-recognized program that scans and validates the provided software to follow the most rigid industry security measures. Receiving Veracode Verified status demonstrates our commitment to creating secure software using the industry best practices. KingswaySoft team was able to achieve a clean status for all modules within the KingswaySoft SSIS Integration Toolkit product family including the SSIS Productivity Pack which certifies the application meets a high standard of application security. For more information on KingswaySoft's Verified Status, please visit www.veracode.com/verified/directory/kingswaysoft.
Training
In 2020, we put some significant efforts in ramping up our training offering for our clients and partners to empower them to become more efficient and more productive in using our software solutions in their integration projects. Delivered by expert trainers via online webinars, our training sessions introduce users to Microsoft SQL Server Integration Services (SSIS) concepts as well as one of our SSIS Integration Toolkits. Sign up for our training sessions and we will ensure that you get the most out of your investment in our software. For more information on our training services, visit www.kingswaysoft.com/training.
COVID-19
Despite the overwhelming positive news, it is important to remember that the global reaction to the COVID-19 crisis has significantly impacted businesses around the globe. Here at KingswaySoft, we moved quickly to activate our work-from-home protocols to protect our employees and ensure uninterrupted access to our services for our clients. In May, we donated to a front-line organization in the UK a free six-month subscription to our Ultimate Edition to support their data-sharing and analyzing efforts with medical professionals across the country. We remain committed to providing you with our dependable and dedicated services during this increasingly unpredictable period. For more information on our COVID response, visit www.kingswaysoft.com/covid-19

With that, we look forward to another year of making data integration easy, and supporting the business data and development community. Happy holidays from the entire KingswaySoft team!

---
Back to News