Premium Slowly Changing Dimension SSIS component, is a greatly enhanced SCD component that simplifies the change tracking of data warehouse dimensional data with much greater flexibility. With the Premium Slowly Changing Dimension component, our top priority is offering the greatest usability for developers so less time will be spent working with the tool.

With Premium Slowly Changing Dimension component developers can rest assure their data integrity is being upheld within their data warehouse. This intuitive component offers greater metadata handling which means the component does not need to be re-configured when changes are made in the data inputs.
The Premium Slowly Changing Dimension component, part of the SSIS Productivity Pack, segregates data into 3 simple outputs, New Rows, Changed Rows and Unchanged Rows depending on what changes have occurred to the source dimensional data. The component also supports writing directly to a database so no additional outputs are needed.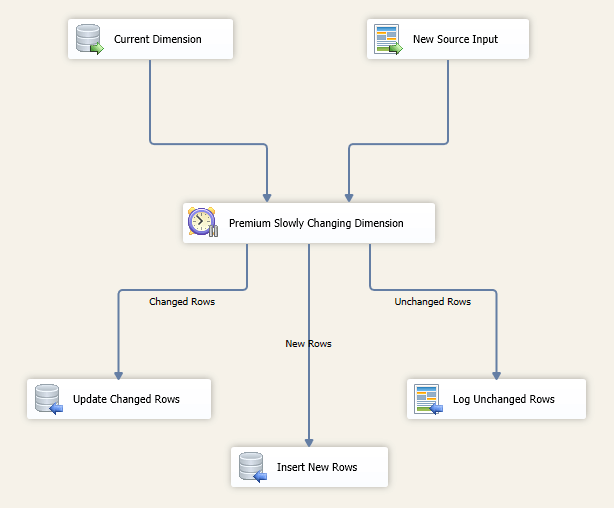 Premium Slowly Changing Dimension: data integration made easy
Our solution is easy to use, offering code-less integration between the Premium Slowly Changing Dimension component and virtually any other application or database system. Our solution is built utilizing Microsoft SQL Server Integration Services (SSIS), a performant and flexible ETL platform, allowing your team to take advantage of the technologies and skills they already have. The drag-and-drop user interface makes it easy to set up powerful integration within a matter of minutes.
Our Premium Slowly Changing Dimension component is available within the Cloud Storage components of our SSIS Productivity Pack, a large collection of premium and unique ETL tools to enable greater development productivity. We also offer several additional connectivity solutions to easily integrate Premium Slowly Changing Dimension with applications such as Microsoft Dynamics 365, SharePoint, Salesforce, and many more.
See our full product offerings for more information.