Premium Slowly Changing Dimension Component
via SSIS Productivity Pack
A premium SCD component for increased usability without limitations. Integrate Premium Slowly Changing Dimension data with any other application or data source including Microsoft Dynamics 365, HubSpot, Microsoft SharePoint, and Marketo, to name just a few.
What other applications can you sync with Premium Slowly Changing Dimension?
Click here for more solutions.
Premium Slowly Changing Dimension SSIS component, is a greatly enhanced SCD component that simplifies the change tracking of data warehouse dimensional data with much greater flexibility. With the Premium Slowly Changing Dimension component, our top priority is offering the greatest usability for developers so less time will be spent working with the tool.
With Premium Slowly Changing Dimension component developers can rest assure their data integrity is being upheld within their data warehouse.

This intuitive component offers greater metadata handling which means the component does not need to be re-configured when changes are made in the data inputs.
The Premium Slowly Changing Dimension component, part of the SSIS Productivity Pack, segregates data into 3 simple outputs, New Rows, Changed Rows and Unchanged Rows depending on what changes have occurred to the source dimensional data. The component also supports writing directly to a database so no additional outputs are needed.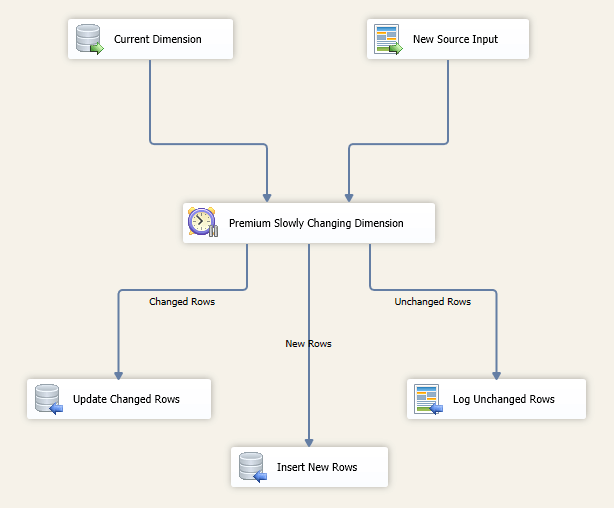 Offering greater performance and developer usability, below is a break-down of how the features of the native SSIS Slowly Changing Dimension wizard compares to the Premium Slowly Changing Dimension component.
Feature
Out-of-Box Slowly Changing Dimension
Premium Slowly Changing Dimension

User Interface & Experience



Set-up Wizard

Can be time consuming when changes need to be made.


Component

Offers a similar UI to other SSIS components which enable developers to quickly move through the component configuration and between pages. Developers can easily make changes later without having to reconfigure the component each time it is opened.

Fixed, Changing, & Historical Attributes


(Type 0, Type 1, Type 2)


Yes

Yes
Current Dimension Input



OLE DB Only


Any Data Input

Outputs


6


3

The component segregates data before output so developers have 3 simple outputs which can be immediately sent to the appropriate destination without any further transformations needed for easier development and processing.
The 3 outputs are: New Rows, Changed Rows, and Unchanged Rows (for logging purposes).

Writing


No


Yes

Component supports writing directly to an ADO.NET connection without the need to configure additional destinations when writing to a database.

Supports Compound Business Key



Yes


Yes

Column Configuration & Change Type Selection


2 Pages


1 Page

Set-up in one simple grid, developers can configure mappings, select their business keys(s) and select the necessary change type all within 1 page offering an immediate overview of the configuration. With all fields already presented, developers spend much less time configuring the component.

Surrogate Key



Not Supported


Supported

Allows developers to specify the Surrogate Key which can be useful when performing inserts and updates later in the workflow. Also includes advanced settings for specifying how a Surrogate Key should be generated for new records.


| | | |
| --- | --- | --- |
| Change Type Settings | Yes | Yes |
| | Option to Fail when change detected. | Part of the component error handling (Fail on Error, Redirect to Error Output, or Ignore). |
| | Option to select to change all matching records. | Option to Select to change all matching records. |
| | Single Column and Date Column settings. | Single Column and Date Column settings. |

Inferred Members



Additional Set-Up Required


No Additional Set-Up Required


With advanced data handling within the component the Inferred Members setting becomes unnecessary.


Supported Destinations



OLE DB


Any

If developers do not want to write directly to an ADO.NET connection from within the component, the component also supports use of any component in the downstream outputs.

OLE DB Command Transform


Required


Not Required


Data is processed and segregated before output simplifying the pipelines and eliminating the need for the OLE DB Command Transform component.

Error Handling


Limited


Yes

The component offers the ability for Fail on Error, Redirect Rows to Error Output or to Ignore Error when any errors occur. With Redirect Rows to Error Output the component will continue running and not disrupt the entire data flow.

Premium Slowly Changing Dimension: Data Integration Made Easy
Our solution is easy to use, offering code-less integration between Premium Slowly Changing Dimension and virtually any other application or database system. Our solution is built utilizing Microsoft SQL Server Integration Services (SSIS), a performant and flexible ETL platform, allowing your team to take advantage of the technologies and skills they already have. The drag-and-drop user interface makes it easy to set up powerful integration within a matter of minutes.
Our Premium Slowly Changing Dimension component is available within the Data Warehousing components of our SSIS Productivity Pack, a large collection of premium and unique ETL tools to enable greater development productivity. We also offer several additional connectivity solutions to easily integrate Premium Slowly Changing Dimension with applications such as Microsoft Dynamics 365, SharePoint, Salesforce, and many more.
See our full product offerings for more information.
Other SSIS Data Warehousing Components
Our Data Warehousing components make it easy to integrate with different services within the ETL process. Each service available has specific components that have been developed to work with all the intricacies of that particular data warehousing solution. In addition to Premium Slowly Changing Dimension, we support the following Data Warehousing services:
Get In Touch
If you would like to know more specific details about our solutions, or if you have any suggestions about our product offerings, we are always here to listen and help!