Join KingswaySoft at PASS Data Community Summit 2023
Save the Date!
November 14 - 17, 2023
At KingswaySoft, we are thrilled to announce our presence at PASS Summit 2023! Join us for insightful sessions, partnership opportunities, and an opportunity to win an Amazon Kindle 16GB! Don't miss out and stay tuned for more updates!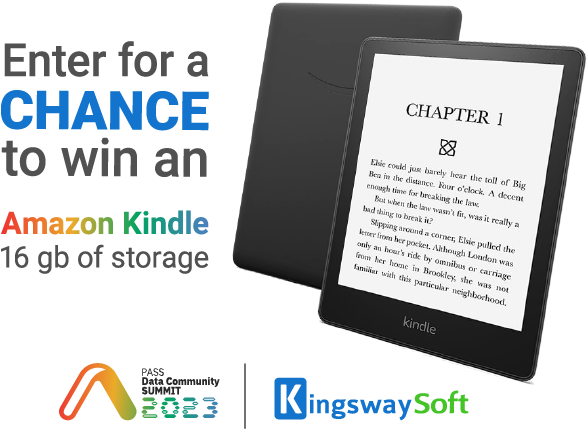 Visit our booth and join our team of experienced professionals who will showcase our latest features and demonstrate how our solutions can adeptly tackle complex data integration challenges, ensuring smooth and efficient data flows.
About KingswaySoft
KingswaySoft offers over 300 SSIS components that facilitate the most complex integration scenarios. These include data masking and anonymization, duplicate detection, data comparison, data profiling, advanced expression, encryption and compression, JSON & XML processing, SFTP/FTPS, and message queuing, to name a few. Many other premium components support in delivering a rapid ETL development experience using Microsoft Visual Studio and SQL Server Integration Services (SSIS) as the platform.
Our solution also includes support for connecting to NoSQL databases, cloud storage services, REST APIs, and virtually any other API or web service endpoint (SOAP or REST). Connectivity solutions are also available for facilitating data integration with enterprise applications such as Microsoft Dynamics 365, Active Directory, HubSpot, Microsoft SharePoint, Salesforce, and many more. Similarly, REST connections are available for numerous applications, including Asana, Facebook Business, MailChimp, Microsoft Teams, MYOB, Twilio, Shopify, Slack, WordPress, Yammer, and Zuora, to name a few.
---
Back to News