KingswaySoft Achieves Google Cloud Ready - Cloud SQL Designation
Oakville, ON, August 29, 2023 - KingswaySoft, a leading provider of integration solutions for many enterprise application systems, announced today that it has successfully achieved Google Cloud Ready - Cloud SQL designation for Cloud SQL, Google Cloud's fully managed relational database service for MySQL, PostgreSQL, and SQL Server.

Google Cloud Ready - Cloud SQL  is a new designation for solutions from Google Cloud's technology partners that integrate with Cloud SQL. Through close collaboration with Google Cloud, KingswaySoft added support for Cloud SQL MySQL, PostgreSQL, and SQL Server into their solutions, refining existing functionalities for unparalleled performance. In addition, refined documentation is available on their website to ensure the smooth onboarding of mutual customers.

By earning this designation, KingswaySoft has validated, in collaboration with Google Cloud's engineering teams, that their products fulfill a core set of functional and interoperability requirements, making them optimal choices for seamless data migration and integration with Cloud SQL. This designation helps Google Cloud customers make confident decisions when choosing KingswaySoft's solutions for their ETL development to work seamlessly with Cloud SQL.
As part of this program, KingswaySoft will also work closely with Google Cloud partner engineering and Cloud SQL teams to deliver cutting-edge solutions for their clients.
"At KingswaySoft, we are delighted to be certified with the Google Cloud Ready - Cloud SQL designation. Our team diligently worked with the Google Cloud team to deliver the best integration solution possible for Cloud SQL. We will continue working with Google to provide robust and feature-rich solutions for our clients.", said Daniel Cai, the Managing Director of KingswaySoft.
"The Google Cloud Ready - Cloud SQL designation recognizes partner solutions that have met a core set of requirements to ensure the best possible integration between the partner product and Cloud SQL," said Ritika Suri, Director of Technology Partnerships at Google Cloud. "With KingswaySoft, customers can save time on evaluating new tools, and focus on building solutions using partner products that have been proven through a rigorous validation process to work optimally with Cloud SQL."
To learn more about KingswaySoft's expertise with Cloud SQL, visit. To learn more about Google Cloud Ready - Cloud SQL designation and its benefits, visit.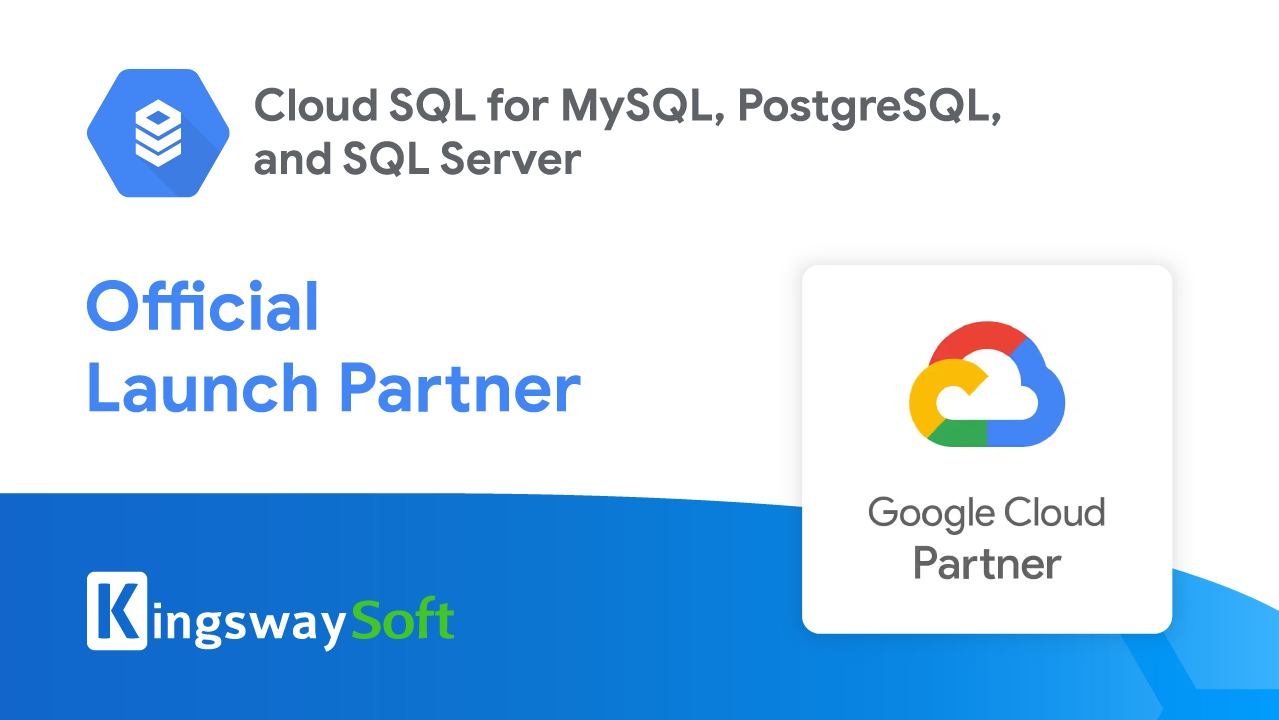 About KingswaySoft - Data Integration Made Easy.
KingswaySoft is a leading integration solution provider that offers sophisticated software solutions that make data integration simple and affordable. Thousands of enterprise clients from over 100 countries rely on our no-code SSIS Integration solutions to integrate data with various application systems to drive business efficiency and leverage information assets.
---
Back to News