KingswaySoft Achieves Google Cloud Ready - BigQuery Designation
Oakville, ON, April 6, 2022 - KingswaySoft, a leading provider of integration solutions for many enterprise application systems, today announced that it has successfully achieved Google Cloud Ready - BigQuery designation.
Google Cloud Ready - BigQuery is a Google Cloud accreditation program awarded to integration solutions created by Google Cloud partners that help bring data into BigQuery in an efficient and supported manner. As part of this initiative, Google Cloud engineering teams validate partner integrations into BigQuery in a three-phase process - Running a series of data integration tests and comparing results against benchmarks, working closely with partners to fill gaps and refining documentation for our mutual customers.

By achieving this designation, KingswaySoft has proven that its products fulfill a core set of functional and interoperability requirements, making them the ideal solutions for data migration or integration projects when BigQuery is the source or target. This designation helps Google Cloud customers make confident decisions when choosing the KingswaySoft solutions for their integration needs in order to work with BigQuery data seamlessly.
As part of this program, KingswaySoft will also work closely with Google Cloud partner engineering and BigQuery teams to further develop joint roadmaps and provide the best data solutions for their clients.

"Businesses are increasingly relying on multiple platforms, applications, and partners alongside BigQuery in their data and analytics stacks, making seamless data integration more important than ever," said Manvinder Singh, Director, Partnerships at Google Cloud. "The Google Cloud Ready - BigQuery designation indicates that KingswaySoft's data migration and integration capabilities will deliver excellent customer experience and value for customers undertaking data-driven transformations."

"Our team is very excited that our solutions have been certified by the Google Cloud Ready - BigQuery program. Working with the Google BigQuery platform has been a pleasant journey for us, our team has truly enjoyed the scalability and feature-richness of the platform in fulfilling some very complex business intelligence and data warehouse requirements. Our team strives to provide the best possible integration solutions and will continue to do so.", said Daniel Cai, the Managing Director of KingswaySoft.

To learn more about KingswaySoft expertise with Google Cloud, visit www.kingswaysoft.com. To learn more about Google Cloud Ready - BigQuery and its benefits visit https://www.kingswaysoft.com/solutions/ssis-google-services-integration/google-bigquery-data-integration.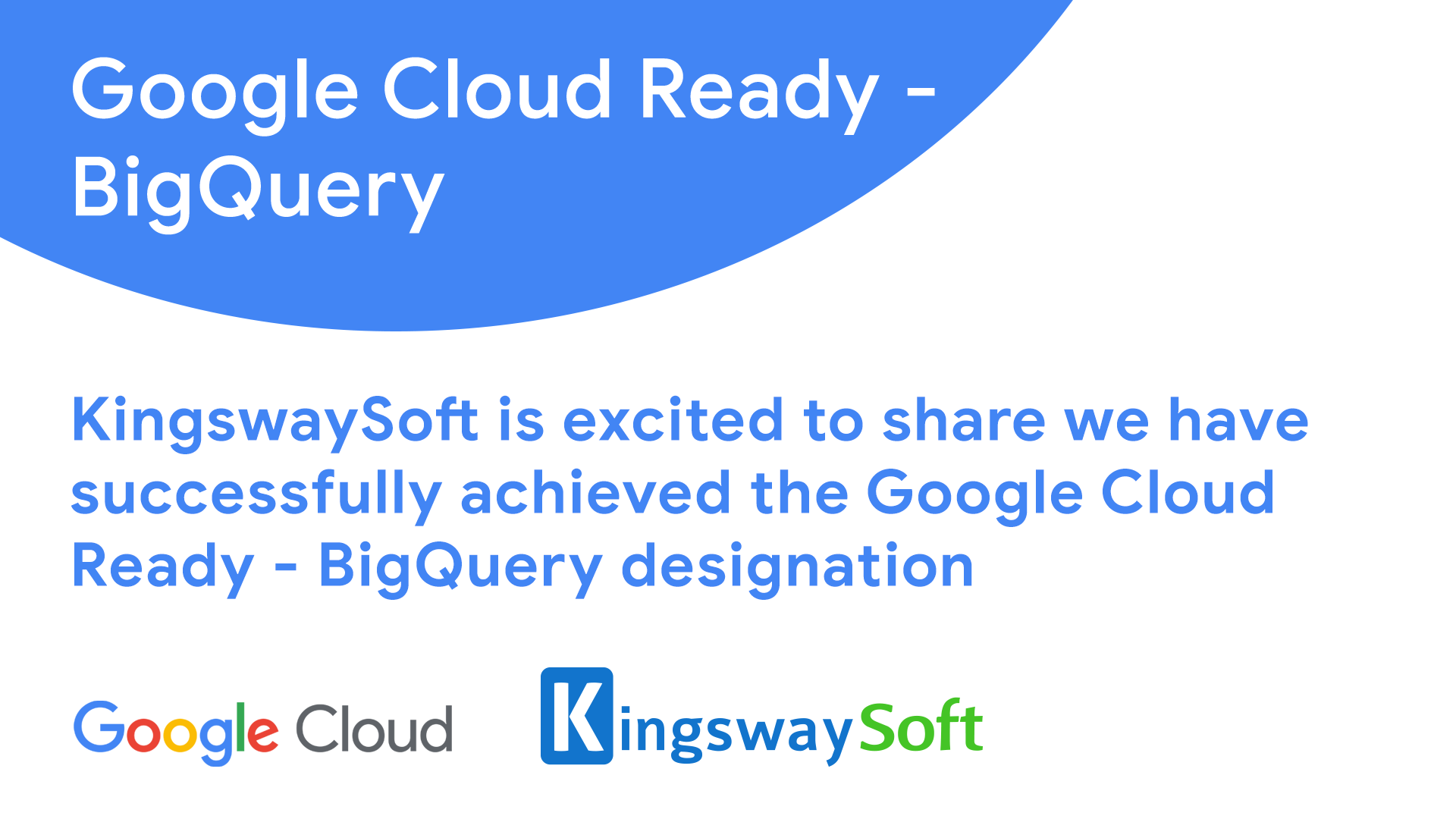 About KingswaySoft - Data Integration Made Easy.
KingswaySoft is a leading integration solution provider that offers sophisticated software solutions that make data integration simple and affordable. Thousands of enterprise clients from over 100 countries rely on our no-code SSIS Integration solutions to integrate data with various application systems to drive business efficiency and leverage information assets.
---
Back to News