KingswaySoft Launches its Virtual Learning Platform
OAKVILLE, ON: March 22, 2021 - KingswaySoft Inc., a leading provider of data integration solutions, today announces the launch of its learning platform KingswaySoft Academy at training.kingswaysoft.com, which provides a one-stop learning portal that empowers integration developers to be productive and more efficient in using the KingswaySoft integration solutions.

Since the inception of the KingswaySoft business, we have put in a lot of our effort to make sure that our software has been engineered in the way it is super easy to learn and use. We take great pride in that our software requires a very minimal learning curve even when you have to work with some really complex integration requirements. However, we understand that learning is always a challenge for someone who is new to the integration development practice around ETL, Dynamics, SharePoint, Salesforce, etc. There are a lot of terminologies to learn, and often the case, there are many different ways to approach a particular integration requirement. In such cases, a hint or guidance from someone who has experienced the same problem will tremendously helpful - that is the entire purpose of our training program. The launch of the platform demonstrates our commitment in helping our clients and partners be more efficient and more sophisticated in their integration development.
Previously, KingswaySoft has been mostly delivering instructor-led training sessions. This has been proved to very inefficient, and it requires a lot of coordination before we could make it happen. One particular challenge is, KingswaySoft serves clients and partners from over 100 countries and regions, it is very challenging to deliver training sessions that would cover every single continent. To move to the virtual platform is to make it more accessible to the training content, this took a lot of effort for the KingswaySoft Academy team to put together the necessary training content within a relatively short period of time. Running the training on a virtual platform gives us more confidence that we deliver the best quality content, which is a big step up from the instructor-led sessions. KingswaySoft Academy team does offer a once-a-month Q&A session that will be used to address any questions from the students in case there are any.
At the initial launch of the program, KingswaySoft offers the crash course for the Microsoft Dynamics 365 Integration Toolkit, which is the most popular integration solution on the market for Microsoft Dynamics 365 applications including Dynamics 365 Customer Engagement, CDS, and Dataverse.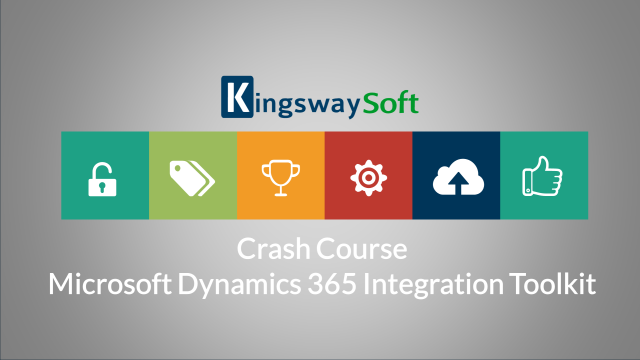 On April 19th, 2021, we have added the Foundation of SSIS Development course to the platform, which is now available under https://www.kingswaysoft.com/support/training-services/foundation-of-ssis-development.
More training courses will follow. Please stay tuned.
To get started with the training program, you can place order from the KingswaySoft Training Services page or you can reach out to the KingswaySoft Client Services team for a prepared quotation.
---
Back to News