Recap of eXtreme365 and User Group Summit 2019
We are excited to share that the KingswaySoft team has returned from Orlando, Florida, after participating in the week-long (October 13 to 18) eXtreme365 and User Group Summit North America 2019 conferences. With over 7000 attendees, the two events represent the largest gathering of Microsoft Business Applications users and partners for education and networking. Here are some quick recaps of KingswaySoft's time there.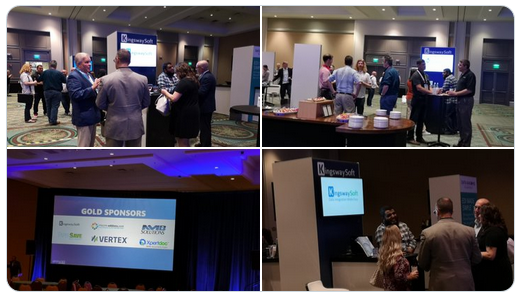 Doors Open at eXtreme365
On Sunday, October 13, 2019, the eXtreme365 team kicked off the week's partner-focused conference; KingswaySoft had the opportunity to meet many existing and new partners and address their every-day integration challenges.
On October 14, a KingswaySoft team member led the technical session titled, Exec01 - Working with OAuth and WebAPI. The meeting discussed how to authenticate properly using OAuth by making service requests to Microsoft Dynamics 365 CE, and also how to move to WebAPI service endpoint before the SOAP endpoint is officially retired. The discussion also covered the tools for rapid development and debugging, including many technical details and caveats when working with OAuth and the WebAPI service endpoint.

On Tuesday, October 15, the KingswaySoft team had the opportunity to present their solution under the title, Data Integration Made Easy for Microsoft Dynamics 365, at the Grand Sierra A ballroom. The session focused on some of the key features available in the company's SSIS Integration Toolkit for Microsoft Dynamics 365 product and how those features support the work of an integration developer. The talk also discussed advanced techniques for large-scale data migration and integration. Both sessions were well received with many partners in attendance.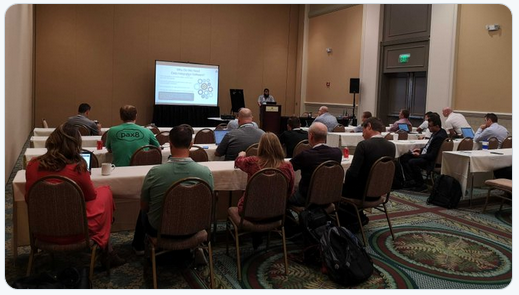 User Group Summit 2019 Officially Begins
Wednesday, October 16, brought the start of the User Group Summit 2019 at the Gaylord Convention Center of Orlando, Florida, which is a conference specifically designed for Dynamics 365 and Power Platform users. At this conference, KingswaySoft met current clients and partners and discussed their data integration needs. Numerous productive conversations were had with visitors to the KingswaySoft booth with talks focusing on the value of KingswaySoft's integration solutions and how they can be used to save development time and integration cost.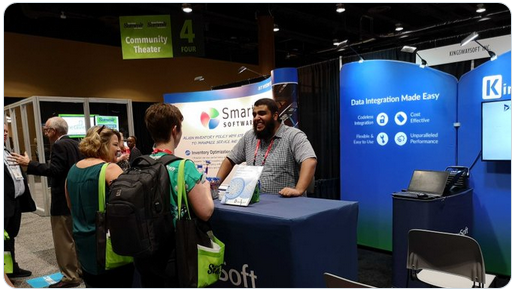 Using KingswaySoft to Tackle Business Challenges
During the User Group Summit conference, KingswaySoft solutions were proudly presented and mentioned on many different occasions as the go-to solution for Microsoft Dynamics 365 integration and migration. There is one particular session on Thursday morning under the subject of There's More than One Way up the North Mountain, which proved to be quite interesting. Presented by Kylie Kiser, Mallory Lawhorne, Malcolm McAuley and Todd Mercer, the presentation took one business challenge, broke it down and then proceeded to solve it in three different ways with one solution featuring KingswaySoft's SSIS Integration software!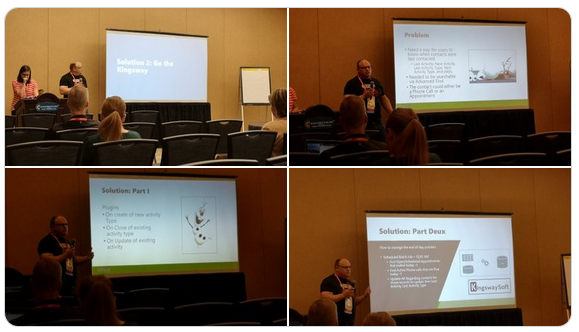 Wrapping it up at User Group Summit 2019
The final day of the conference was abuzz with activity as conference halls overflowed with attendees, wrapping up an incredible week at User Group Summit 2019. Thanks to everyone who visited the KingswaySoft stand at eXtreme365 and the User Group Summit; KingswaySoft is proud to be part of these annual conferences and will see you all again next year.
If you were not able to stop by to chat, KingswaySoft will be at PASS Summit 2019 in Seattle, Washington, in November and at the User Group Summit 2020 Europe in Barcelona in March.
About KingswaySoft
A leading integration solution provider, KingswaySoft, offers sophisticated software solutions that make data integration affordable and straightforward. Thousands of enterprise clients from over 90 countries rely on our no-code SSIS Integration solutions to integrate data with various application systems to drive business efficiency and leverage information assets.
Learn more at www.kingswaysoft.com
---
Back to News