KingswaySoft is at eXtreme365 and User Group Summit 2019
Oakville, ON: KingswaySoft Inc. is pleased to announce they will be heading to eXtreme365 and the User Group (UG) Summit 2019 in Orlando from October 13 to October 18. The events bring together the largest gathering of Microsoft Business Applications users and partners for education and networking. With credible peer-to-peer knowledge exchange at its core, the events provide focused learning and networking as users gain instrumental solutions for their everyday system challenges and larger organizational goals.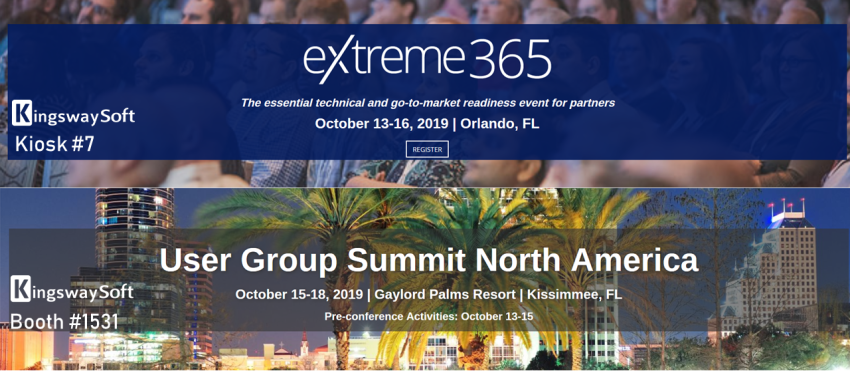 Where to find KingswaySoft
Meet the KingswaySoft team at Booth #7 at eXtreme365 and Booth #1531 at UG Summit in the exhibition halls to discuss your data integration and ETL challenges.
A KingswaySoft team member will be leading the a highly technical session on working with OAuth and WebAPI on October 14 at 4:45 PM. This session discusses how to authenticate properly using OAuth by making service requests to Microsoft Dynamics 365 CE, and also how to move to WebAPI service endpoint before the SOAP endpoint is officially retired.
Make sure to catch KingswaySoft on October 15 at 10:00 AM for a live session on Data Integration Made Easy for Microsoft Dynamics 365. This session will discuss key features of KingswaySoft's SSIS Integration Toolkit for Microsoft Dynamics 365 and demonstrate how those features can benefit an integration developer. Advanced techniques for large-scale data migration and integration will also be shared.
Expo Hours:
eXtreme365 - Kiosk #7

Monday, October 14: 7:30 AM - 6:00 PM


Highly Technical/Advanced Session presented by KingswaySoft team member - EXCE01: Working with OAuth and WebAPI: 4:45 PM - 6:00 PM

Tuesday, October 15: 7:30 AM - 3:45 PM

KingswaySoft Presentation - Data Integration Made Easy for Microsoft Dynamics 365: 10:00 AM - 10:30 AM

Wednesday, October 16: 9:15 AM - 2:00 PM

UG Summit 2019 - Booth #1531

Wednesday, October 16: 7:00 AM - 3:00 PM
Thursday, October 17: 7:00 AM - 1:30 PM
Friday, October 18: 7:00 AM - 1:00 PM
Follow KingswaySoft on social media (Twitter | LinkedIn | Facebook) for the latest updates from the expo floor.
Where to meet KingswaySoft next
If you are unable to attend eXtreme365 or the User Group Summit 2019, KingswaySoft will be in Washington from November 5 to 8 for the PASS Summit 2019.

About KingswaySoft
A leading integration solution provider, KingswaySoft offers sophisticated software solutions that make data integration simple and affordable. Thousands of enterprise clients from over 90 countries rely on our no-code SSIS Integration solutions to integrate data with various application systems to drive business efficiency and leverage information assets.
Learn more at www.kingswaysoft.com
---
Back to News