KingswaySoft Customer Case Study - Inogic
Inogic, one of our long-standing clients, recently completed a migration project with our SSIS Integration Toolkit for Microsoft Dynamics CRM.
When Inogic's client was still using Dynamics CRM 3.0 and decided to upgrade to Dynamics CRM 2013, they had to figure out how to bring over 60 gigs of data that involved 300,000+ emails with attachments, all within a constricted timeframe. It was only natural that they turned to KingswaySoft's solution. With our product using the SSIS platform, Inogic knew that migration wouldn't take very long.

We spoke with Inogic's CEO, Roohi Shaikh, to take a look at what their experience was like with us. Read full article here.
About Inogic
Inogic is an experienced and exclusively focused Microsoft Dynamics CRM Silver Partner specializing in the development of innovative solutions and products for Dynanics CRM. They are also an ISV with their flagship products including Integration solutions such as INOLINK (integrates with Intuit QuickBooks) and MAPLYTICS (Integrates with Bing Maps).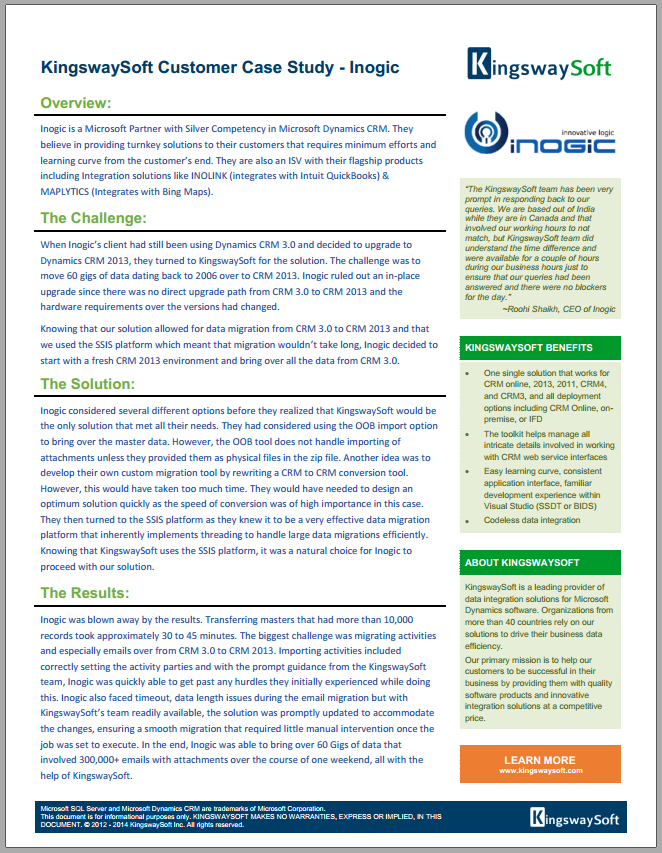 ---
Back to News