Last week we were in Tampa, Florida for the UG Summit. There we were witness to the public launch of Microsoft Dynamics 365, a solution to unify Microsoft Dynamics CRM and Microsoft Dynamics AX into one complete system. While we work to prepare our data integration solution for Dynamics 365, read below for the highlights of our week in Tampa & join our Dynamics 365 mailing list to keep up-to-date with our launch.
Edit: Our SSIS Integration Toolkit for Microsoft Dynamics 365 is now available, find more here.
Early morning on Tuesday October 15 we were at the Toronto Pearson Airport ready to fly off to sunny Tampa, Florida. We were making our way there for the annual Summit for Microsoft Dynamics User Groups. The conference put on by Dynamics Communities is 4 rolled in to one with AXUG Summit, CRMUG Summit, GPUG Summit and NAVUG Summit. This conference brings together Dynamics users from across the globe blending special access to Microsoft leadership with credible peer-to-peer knowledge exchange – this event delivers electric keynotes, visionary product roadmaps, focused learning and optimal networking.
This year was our third year attending UG Summit as a CRMUG Sponsor.
Day One – Tuesday Oct 11, 2016
The conference kicked-off at 2pm with a keynote sponsored by Microsoft. Leading in to the Amalie Arena we were greeted by flag waving, Segway-driving Microsoft performers and given some Dynamics 365 swag. The keynote was Microsoft's official public launch of Dynamics 365.
The session began with an update on what each of the Dynamics User Groups represented at the conference has been up to this year and we were also introduced to DSLUG and the new PBIUG.
The audience was then treated to a beautiful performance by the Portico Chorus, one of the charities Dynamics Community supports.
After their performance it was time for the Microsoft Vision Keynote delivered by Scott Guthrie to introduce Dynamics 365. We were presented with case studies on real businesses already using Dynamics 365 and given demos of some of the key features of the new unified solution.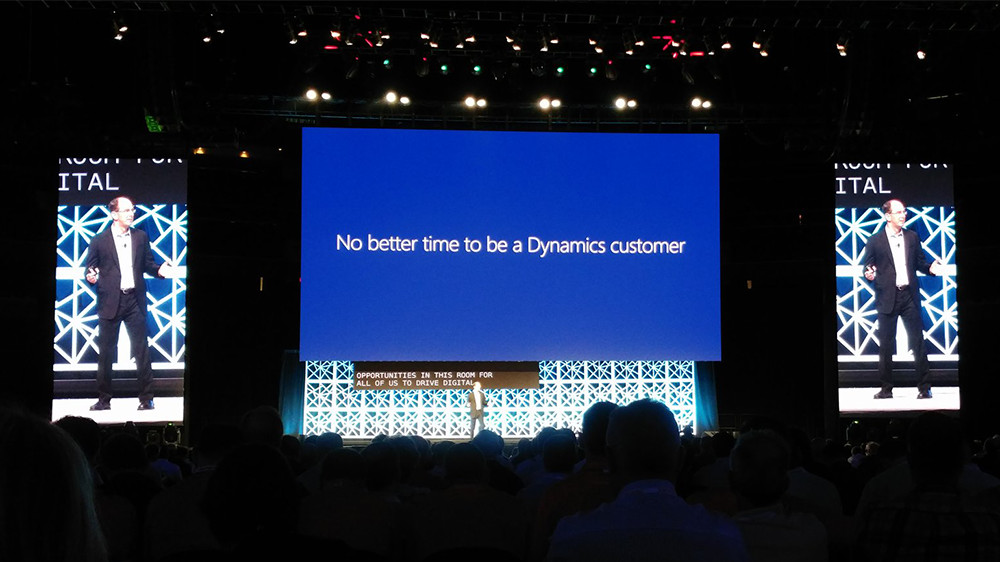 Scott Guthrie introducing Microsoft Dynamics 365
You can watch the full Microsoft Dynamics 365 launch announcement here.
After Microsoft's Vision Keynote we heard from Ray Wang as he presented the importance of staying relevant in our changing digital culture and why businesses need to adapt to a new digital age.
With the keynote over the crowd headed over to the Tampa Convention Center for the Expo Dinner Reception where we got to meet current clients and introduce new people to our data integration solutions. The night ended with a celebration sponsored by Microsoft with a robot marching band parading through the expo hall directing people outside for the firework display by the river.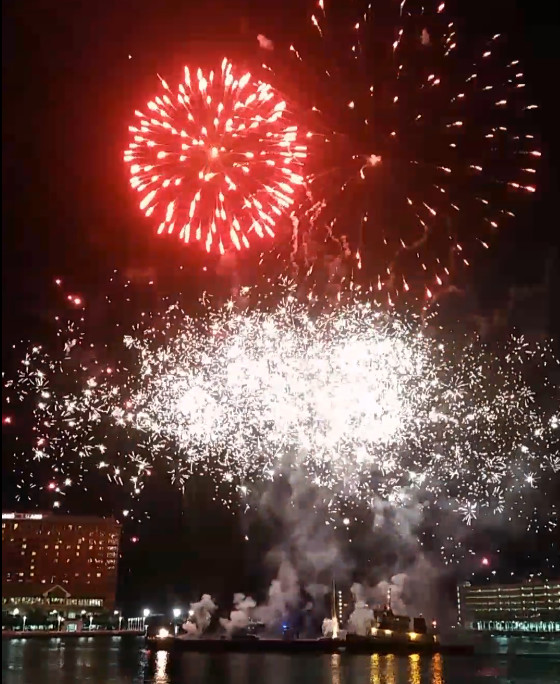 Firework display provided by Microsoft to kick-off UG Summit 2016
Day Two – Wednesday October 12, 2016
As CRMUG sponsors, on Wednesday we headed to the CRMUG Keynote presented by Jujhar Singh, there we were given more details on Dynamics 365 features specific to the CRM/Sales side – and did the crowd ever get excited about editable grids!
This combined with the keynote the day before gave us some great insights as to what to expect from Dynamics 365 as we prepare to launch our data integration solution for Microsoft Dynamics 365.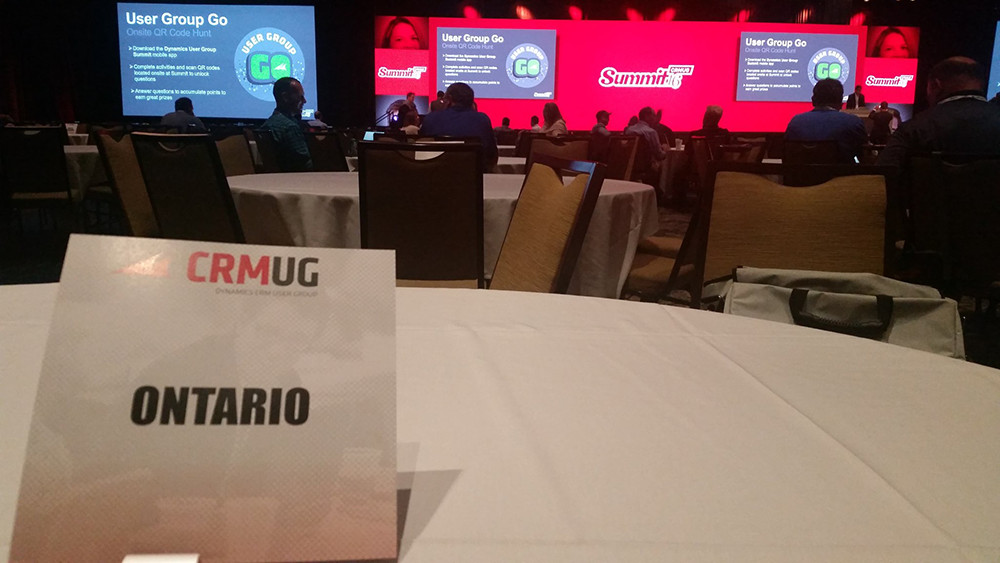 At the Ontario table waiting for the CRMUG Keynote to begin
The seating for the CRMUG Keynote was set-up by location which meant we were sitting at the Ontario tables. The keynote bridged right into lunch where we were able to speak more with those we had sat with during the keynote.
We spent the afternoon in the expo hall mingling with attendees, the evening was dedicated expo time as food and drinks were set out for all to enjoy.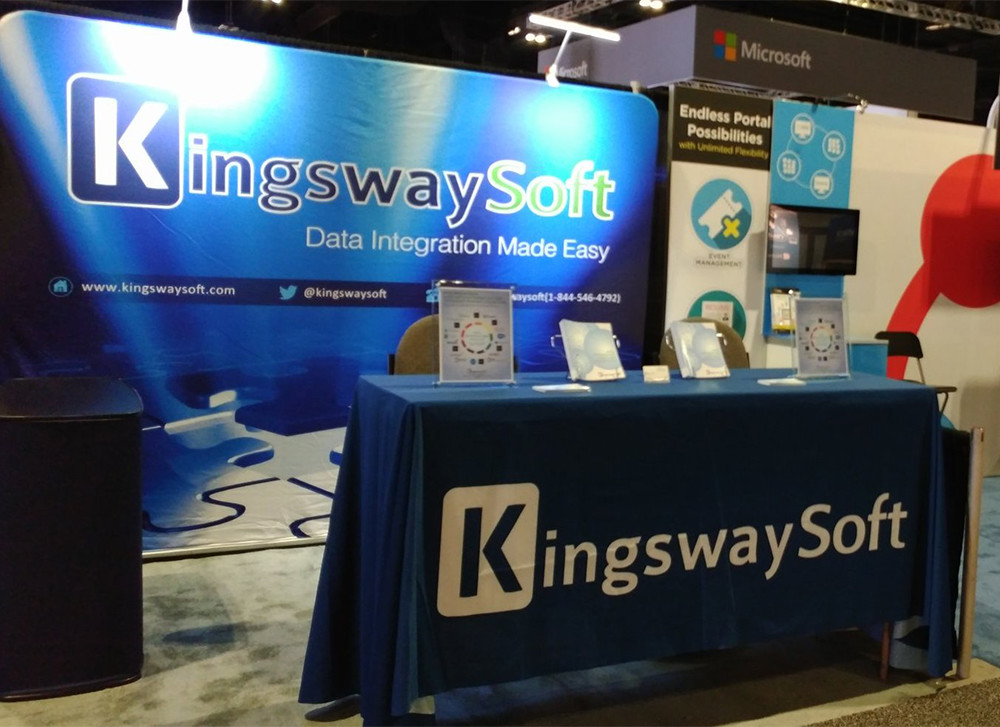 Our booth at UG Summit
With the expo reception ending at 7, the entire KingswaySoft team headed over to District 3 where our partner Power Objects was hosting an after party. It was an early evening for us so unfortunately we missed the dance-off that ended up taking place, but saw the video clips the next day!
Day Three – Thursday October 13, 2016
Thursday morning was our time to shine; at 9:15 our session "Easy Data Integration for Microsoft Dynamics & Beyond" began to a packed house. We're so grateful to everyone who came out to learn how easy data integration can be.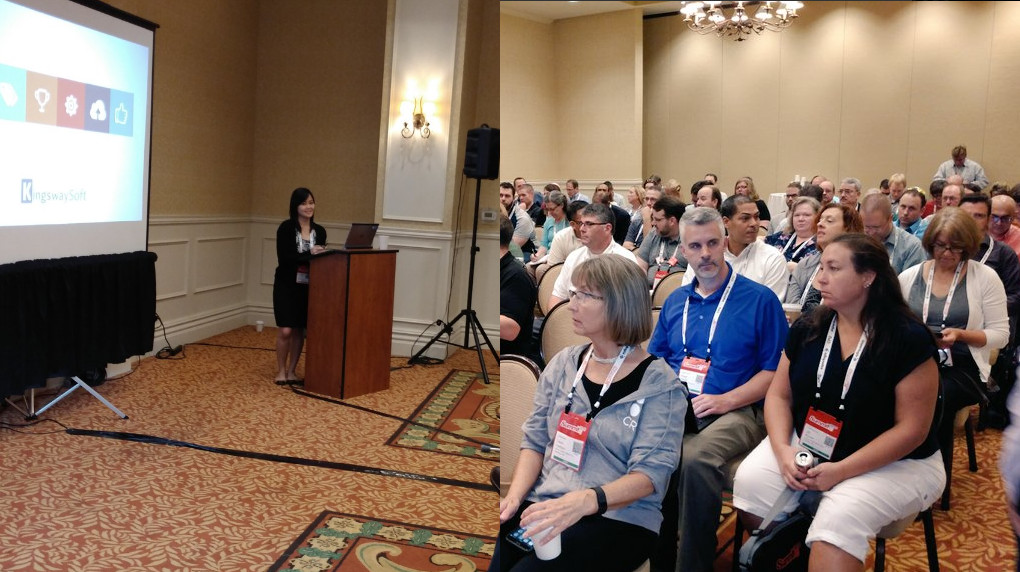 Moments before our session began, it was standing room only for last minute attendees
After our session we headed back over to the expo hall to prepare for more expo time. At 4pm our day in the expo hall was done and the team headed out for dinner before making our way to the Aquarium for a truly unique private party. With the entire Aquarium open to party attendees we were treated with a unique look at the exhibits after dark, and a scuba performace in the shark tank!
Day Four – Friday October 14, 2016
Friday was the last day of the conference. We had our final expo times during lunch and then sadly it was time to pack-up our booth before Daniel Cai hosted his session "What Can Go Wrong with Your CRM Data Migration" at 3:45.
Final Notes
We all had an amazing time at UG Summit this year and loved meeting so many new people. With 3 of us at the conference from 3 different roles within our organization, each one of us were able to attend relevant and worthwhile sessions that fit our unique needs and we have taken home valuable knowledge we are eager to put in place.
We are impressed with Microsoft's support of the conference and the amount of content they had available for attendees as we prepare for the launch of Dynamics 365. As a Microsoft ISV partner we are excited for the new features and the ability to help support Dynamics 365 users with their data integration needs on this new unified platform.
We can't wait to head to Nashville for UG Summit 2017 next October!