The SSIS Integration Toolkit for Microsoft Dynamics GP
Data integration can be done in a matter of minutes when using this powerful integration toolkit.
Utilizes Microsoft SSIS as the data integration platform to take advantage of the flexibility and power of the SSIS ETL engine.
Develop simple to complex data integration jobs without ever having to write a single line of code.
A simple development process with built in features to help ease the process even further, including built-in SQL Query builder and automatic field mapping.
Includes GP Connection Manager, GP Source component, GP Destination component and the bonus GP Next Document Number Generator Component.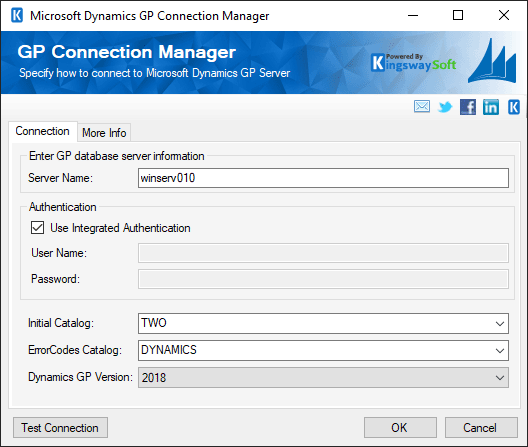 Write custom SQL queries or simply choose a source object to retrieve data.
Column/field filtering capabilities to retrieve only the data you need.
Write to Microsoft Dynamics GP using 4 different write actions: Create, Update, Delete or Void.
Automatically maps fields to establish associations between input columns and GP fields.
NextDocNumber component can be used to generate new sequential IDs for transnational objects.