The SSIS Integration Toolkit for Microsoft SharePoint
Take advantage of the freedom, flexibility and power of the SSIS ETL engine to facilitate Microsoft SharePoint data integration.
Performant and easy-to-use SSIS components to quickly connect, read and write to Microsoft SharePoint Online or On-Premises.
Option to retrieve data from SharePoint using CAML query filters built in the Query Designer.
Manage your SharePoint flat files with 3 bonus SSIS components included with the toolkit.
Integrate your SharePoint data with virtually any application or database system including Microsoft Dynamics 365, Salesforce, Marketo, SQL Databases and Oracle Databases.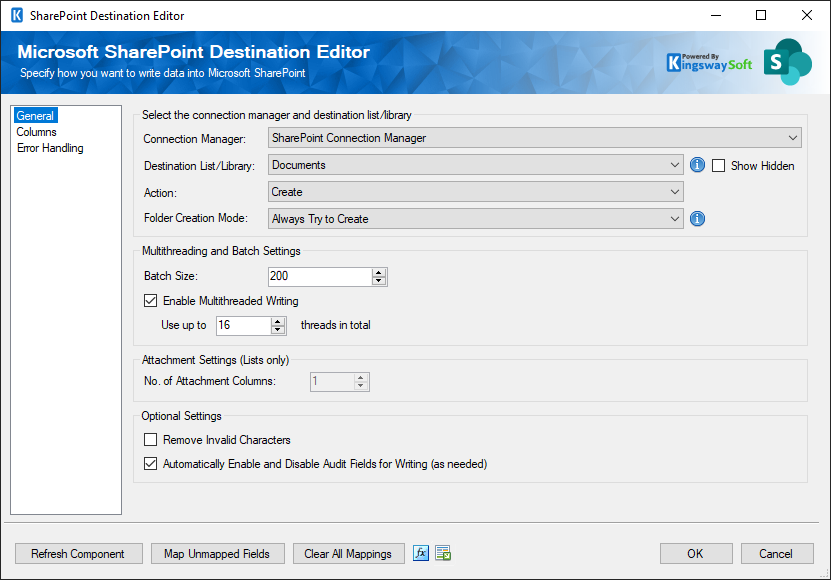 Write to SharePoint lists and document libraries using 7 different write actions: Create, Update, Delete, CreateFolder, CheckIn, CheckOut, and Moderate.
Support for multi-threaded writing using one single configuration.
Write to Microsoft Dynamics through various write actions with many configurable options and advanced settings.
Query Designer allows you to design CAML Query directly within the SharePoint Source Component.
Manage SharePoint flat files with SSIS Productivity Pack's Premium Flat File Source, Destination and File Transfer Task components included.